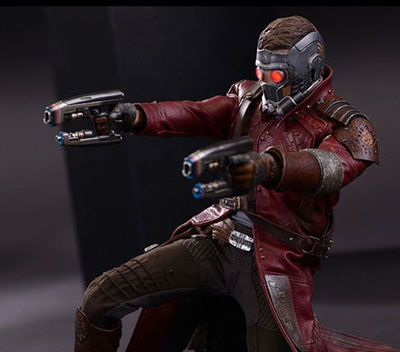 Star Lord Hot Toys from Guardians Of The Galaxy
This 1/6 Star Lord Hot Toys is a perfect scale model of the character from the Guardians of the Galaxy movie.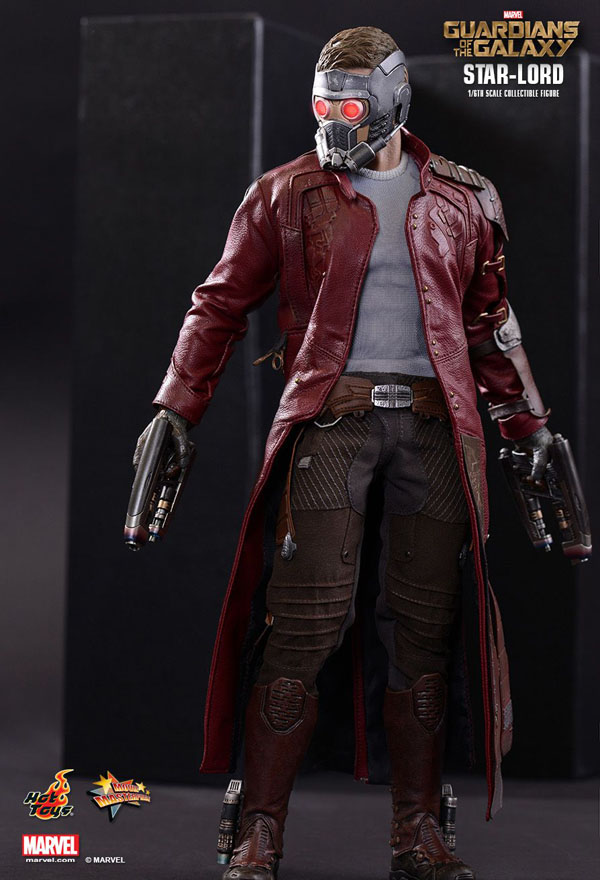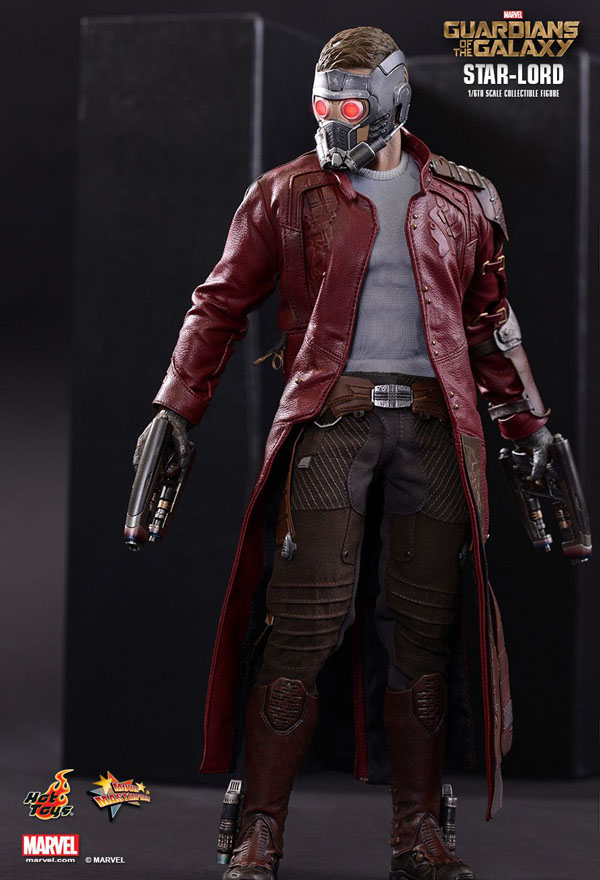 When Peter Quill is kidnapped from Earth, he is transported to a new life as a Ravager. He was brought up by Yondu Udonta who taught him how to live by the Ravagers code.

Known by his outlaw name as Star Lord, Quill became involved with the characters from Guardians of the Galaxy after attempting to steal the Orb.
During the Quest for the Orb, Star Lord became part of a team that included Gamora, Groot, Rocket Racoon and Drax the Destroyer.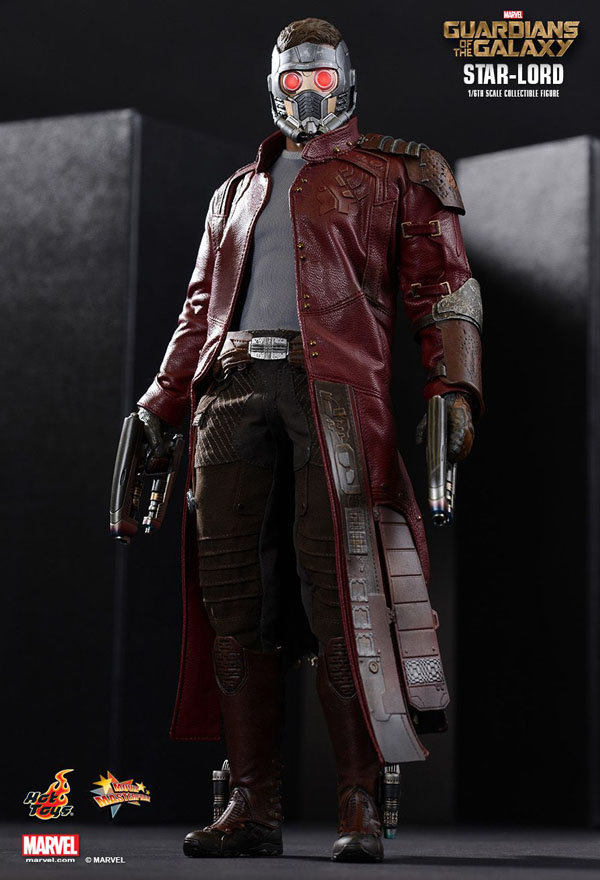 Linked by an opposition to Ronan the Accuser, the Guardians of the Galaxy joined forces to stop him using the Power Stone to destroy Xandar.
1/6 Scale Hot Toys Star Lord Figure
If you are a collector of 1/6 scale Marvel figures, you will know that Hot Toys produce the highest standards of movie-accurate figures.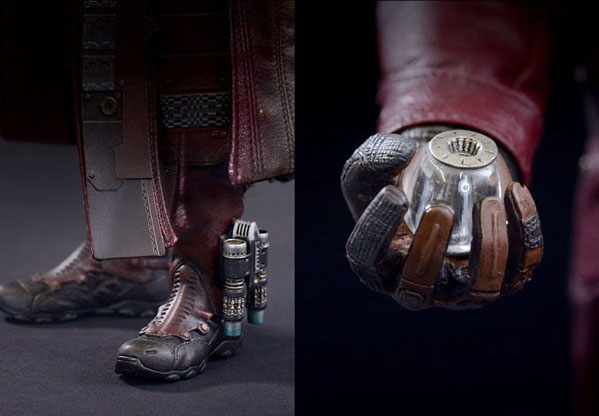 The head sculpt of the Hot Toys Star Lord matches in detail the facial features of Chris Pratt who plays the character in Guardians of the Galaxy Vol.1.
Height:
Approximately 31 cm tall
Special Features:
30 Points of Articulation
Movie-accurate head sculpt
Interchangeable LED light-up masked head sculpt
Highly detailed costume
Additional weapons and accessories
Artists:
Head Sculpted by Yong Kyum, Kim
Head Painted by JC. Hong
Head Art Directed by Kojun
Release date:
Q1 – Q2, 2015
Star-Lord Collectible Figure
The movie-accurate Star-Lord collectible figure is a must for collectors of Guardians of the Galaxy Hot Toys.
It is specially crafted based on the image of Chris Pratt as Star-Lord in the first Guardians of the Galaxy movie.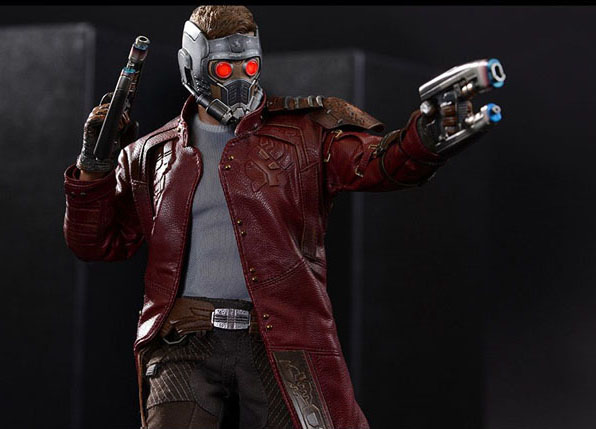 This incredible Hot Toys figure featuring the newly developed head sculpt, an interchangeable LED light-up masked head sculpt, highly detailed costume, weapons and accessories.
The 1/6th scale Star Lord Hot Toys Collectible Figure includes the following special features:
Newly developed head sculpt with authentic and detailed likeness of Chris Pratt as Star-Lord in Guardians of the Galaxy
Movie-accurate facial expression with detailed wrinkles, skin texture and beard
Interchangeable masked head sculpt with LED light up function (red battery operated)
Body with over 30 points of articulations
Approximately 31 cm tall
Interchangeable Hands:
5x pieces of interchangeable gloved palms includes:
1x pair of fists
1x pair of palms for holding guns
1x right palm for holding orb
Each piece of head sculpt is specially hand-painted
Costume:
One (1) light blue tee
One (1) red long coat with distress effects
One (1) pair of gray pants
One (1) pair of brownish red boots with boosters
Weapons:
Accessories:
1x sling pack
1x portable audio cassette player with headset
1x real-like plasma orb
Figure stand with Star-Lord nameplate and the movie logo
Special Edition Bonus Accessories (for selected markets only):
1x The Orb
1x pair of handcuffs
---

---
Images from hottoys.com.hk
---
Check out our page with every Guardians of the Galaxy Hot Toys character.
Find more Guardians of the Galaxy gifts here.