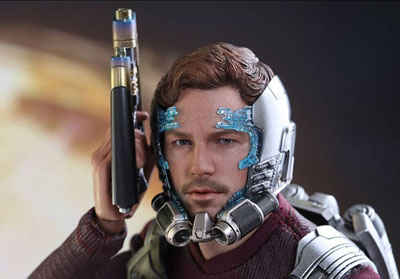 Hot Toys 1/6th Scale Star Lord from Guardians of the Galaxy Vol. 2
Fans of Guardians of the Galaxy Vol. 2 will be amazed by this Hot Toys 1/6th scale Star Lord.
This fantastic movie-accurate figure is sculpted in great detail modeled after Chris Pratt as Star Lord in Guardians of the Galaxy Vol. 2.

In the 2017 MCU movie, Guardians of the Galaxy Vol. 2 we follow the adventures of Peter Quill, Gamora, Rocket Racoon, Drax and Baby Groot.
After defeating an inter-dimensional monster, the team are caught stealing batteries from Ayesha, leader of the Sovereign race.

When the Guardians of the Galaxy meet a god-like Celestial named Ego, they discover that he is the real father of Peter Quill who became Star Lord.
This confirms Peter Quill as a Celestial-human hybrid and as a result is able to access the powers of Ego while on his planet.
Add Star Lord to Your Hot Toys Collection
Hot Toys have released a Deluxe Version Star-Lord 1/6th scale collectible figure. This is a must have for your Guardians of the Galaxy Hot Toys collection.
Height:
Approximately 31cm tall
Special Features:
30 points of articulation
Movie-accurate head sculpt
Interchangeable LED light-up helmet
Helmet in activating mode
Finely tailored costume including a long coat & interchangeable tee
Miniature Baby Groot
Artists:
Head sculpted by Yulli
Head painted by JC. Hong
3D design by Dahye Kim
Helmet sculpted by GOX
Miniature Groot sculpted and painted by Viva Lai
Head art directed by JC. Hong
It features a detailed head sculpt to capture the likeness of Chris Pratt as Star Lord in the hit MCU movie. The figure includes a hand painted interchangeable LED light-up masked head sculpt.

The character wears a finely detailed and meticulously tailored costume including a leather-like jacket.
Peter Quill is equipped with a pair of blasters, a new jetpack, and a miniature Baby Groot that can be placed on Star-Lord's shoulder
Hot Toys Star-Lord (Deluxe Version)
Only the Deluxe Version of this Hot Toys Star-Lord figure includes the following features:
Purplish red colored long sleeve tee
Dark red colored leather-like long coat
Star-Lord helmet in activating mode

The Star Lord 1/6 scale figure includes the following Special features:
Newly developed head sculpt with authentic and detailed likeness of Chris Pratt as Star-Lord in Guardians of the Galaxy Vol. 2
Movie-accurate facial expression with detailed wrinkles, skin texture and beard
Newly painted interchangeable masked head sculpt with LED light up function (red battery operated)
Specialized body with over 30 points of articulations
Approximately 31 cm tall
4x pieces of interchangeable gloved hands including:
1x pair of fists
1x pair of hands for holding guns
7x pieces of interchangeable bare hands including:
1x pair of fists
1x pair of relaxed hands
1x pair of hands for holding guns
1x left gripping hand
Each piece of head sculpt is specially hand-painted
Costume:
1x light gray colored graphic long sleeves tee
1x purplish red colored scarf
1x red colored leather-like jacket
1x leather-like belt with gun holsters
1x pair of multi-texture burgundy colored pants
1x pair of dark red and black boots
Weapons:
Two (2) blasters with metallic color finish
Accessories:
1x jetpack with armored chest plates
1x miniature Baby Groot
1x portable audio cassette player with headset
1x cassette type
2x necklaces
Specially designed figure stand with character nameplate and movie logo
---


---
Check out our page with every Guardians of the Galaxy Hot Toys character.