Are you looking for cool Star Wars gifts for kids? Geek Hut has searched the internet for Star Wars gifts that kids will love.
Is your child obsessed with Star Wars?
To be honest, which kid isn't?
With the latest episodes of the franchise being released, a new generation of Star Wars fans have been created.
Whether it is a birthday party or as a surprise treat, these Star Wars gifts for kids will add magic to your child's life.

Recreate that childhood experience of Star Wars in the next generation.
---
Collectable Star Wars Gifts for Children
These premium quality collectable gifts are for the dedicarted Star Wars fan. If you know a boy or girl who wants the best Star Wars figures or replica props, you will find the perfect gift below.
From Baby Yoda figures to Pewter AT-M6 Walkers, these amazing Star Wars gifts bring home the magic of A Galaxy Far Far Away.
---
---
Darth Vader Sixth Scale Figure

This Darth Vader Sixth Scale Figure is a perfect replica of the most fearsome villian in the galaxy from Star Wars: The Empire Strikes Back. Created as part of the 40th Anniversary Collection by Hot Toys, this 35 cm tall figure with LED light-up lightsaber makes the perfect addition to your kids collection.
---
You can find more Star Wars Hot Toys by following this link.
---
---
Darth Maul Statue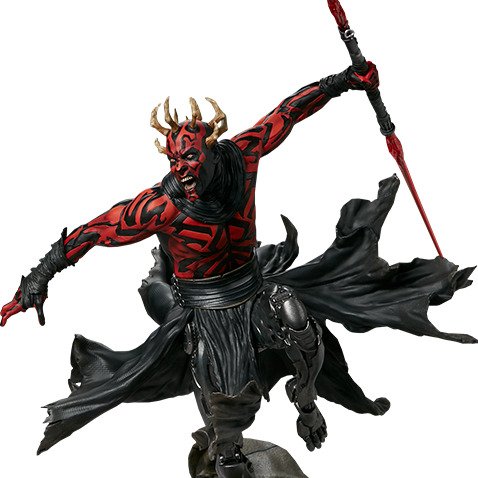 If you kids love the TV show Star Wars: The Clone Wars, they will be familiar with this fallen Sith lord. Depicted here with robotic legs, this statue by Sideshow Collectibles makes a feirsome impact. If your kids are facinated by the Darth Maul character, this is a gift they will treasure.
---
If you liked these statues check out our page dedicated to Star Wars colletable statues.
---
---
Are you a fan of pewter figures. We have a page dedicated to Star Wars pewter collectable figures.
---
The Mandalorian Electronic Helmet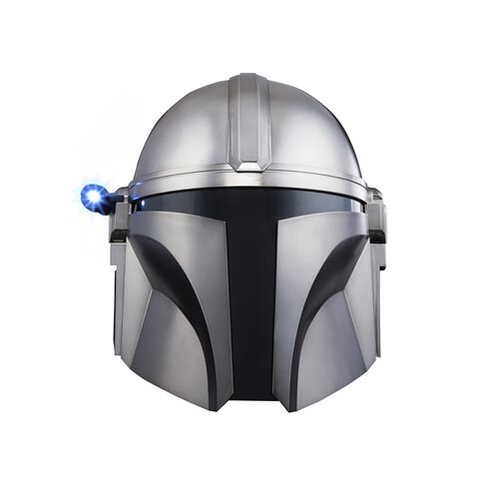 The Mandalorian TV show has gained new and old Star Wars fans, appealing to kids and adults alike. If you know a young fan of the deadly bounty hunter, this replica helmet will be just what they need to imagine joining The Mandalorian on his adventures.
---
---
Stormtrooper Helmet

As the most iconic symbol of the Empire, the Stormtrooper has been a favourite of Star Wars fans for generations.
If you know anyone who loved the Star Wars movies, this replica of the Stormtrooper helmet designed by Ralph McQuarrie in 1975 would make the perfect addition to their room.
---
---
---
Did you like the cool statues above? You can find more exciting Star Wars statues and busts here.
---
Kids Will Love This Cool Star Wars Merch
So what is the magic of Star Wars gifts? Why do all kids love Star Wars merch? Have you forgotten how much Star Wars impacted your childhood?
No gift has ever made a kid so excited as receiving a Star Wars present that allows them to enter the universe of the beloved characters that inhabit.
Every child would love to take part in the adventures that occurred:
A long time ago in a galaxy far far away…
We all wish that we could have played a part in the famous battle scenes from our favourite Star Wars movie.
We have been recreating the final fight between Luke Skywalker and Darth Vader in our imaginations since childhood.
Because it was as a child that the fantasy world of Star Wars first impacted our lives.
---
Star Wars School Bags and Backpacks
Your child will be the envy of his or her school friends when they turn up to school with one of these iconic Star Wars bags or backpacks.
---
Star Wars Kitchen Gadgets for Kids
Cooking with children is a fun learning experience for all the family to join in. With these Star Wars kitchenware and geeky gadgets, you can add the magic of Star Wars to your kitchen.
Lightsaber Electric Salt & Pepper Mill Grinders

Lightsaber electric salt & pepper mill grinders by Uncanny Brands. These elegant lightsaber grinders have a ceramic mechanism which can be adjusted from fine to coarse. These grinders are made from high-quality stainless steel, and their exteriors are durable ABS plastic molded to look like your favorite Jedi weapon. Each runs on four AA batteries
---
Star Wars Bedroom Accessories
Transform your kid's bedroom into part of the Star Wars universe. These Star Wars Bedroom Accessories will be loved by kids of all ages.
The Child / Baby Yoda Wall Clock

Star Wars The Mandalorian The Child / Baby Yoda Hover Pod Wall Clock.
Star Wars Millennium Falcon Posable Desk Light

Star Wars Millennium Falcon Posable Desk Light by Paladone. Standing at approximately 60cm (23.5") tall, this posable lamp is perfect for use in your bedroom or study. The lamp is USB powered and comes with a 3 metre USB cable. Officially licensed and approved by Disney.
They will not be able to wait to show off their Star Wars themed room to all their friends.

---
Why Star Wars Makes The Best Gifts for Kids?
Star Wars offers a truly unique experience that bridges any generation gap. And the Star Wars gifts for kids featured on this page will help bring that world to life.
There is no other movie franchise that is loved by adults as much as by kids.
Parents and grandparents can share their love for the original Star Wars Movies with the children first discovering these amazing science fiction movies.
But the movies are just the beginning…
Do you remember wishing that Santa Claus would deliver a Millennium Falcon to your house for Christmas?
Do you remember the joy of receiving your Luke Skywalker action figure?
Did you dress up as Darth Vader for Halloween?
Were you one of the lucky kids to collect the full Star Wars toy set? You must have been the envy of every school kid.
---
Star Wars Kids Games
These fun games make the perfect Star Wars gifts for kids. They can be enjoyed by the whole family for hours of fun.
If your child always wanted to do battle with the dark side, these board games and activities offer kids the chance to use the Force to help them win.
---
Gift Ideas for Birthdays or Christmas
Bring Star Wars to Life for your Children on their special day

Your kids will adore these Star Wars gift ideas for birthdays or Christmas. Let their imaginations run wild as they reenact scenes from The Last Jedi or The Force Awakens.
And if you have brought them up correctly, they will also be quoting the lines from A New Hope, The Empire Strikes Back and Return of the Jedi.
Star Wars merchandise has been some of the most successfully produced products that movie fans have experienced.
Many of the vintage Star Wars toys have become collector's items that have increased in value over the years.
If you were lucky enough to have been given a Han Solo with a Blaster in 1978 or if you kept your Darth Vader with a Double-Telescoping Lightsaber in pristine condition, you could be in possession of some very sought after toys which are worth a lot of money to collectors.
---
Best Star Wars Toys
These are the Star Wars toys that every kid wants. If your child is lucky enough to get one of these amazing Star Wars toys for their birthday or for Christmas, they will remember this day forever.
---
Star Wars Action Figures
It is the Star Wars Action Figures that allows a childs imagination to come to life. With these action figures, your kid can recreate their favourite Star Wars scenes. Follow this link for more Star Wars Black Series 6 inch figures.
Giving the Gift of Star Wars
Fans of the events set in "A long time ago in a galaxy far, far away…." cant get enough of these Star Wars gifts for kids. If your kids want to take home part of the Star Wars world, these amazing collectibles, toys and games will be the highlight of their daily routine.
If you liked these ideas for the kids, you may want to check out the other Star Wars Gifts available.