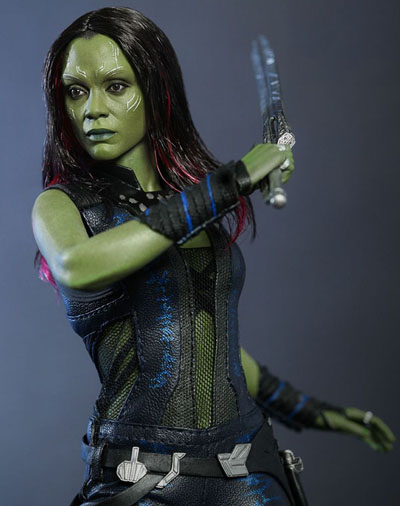 Hot Toys Gamora Guardians of the Galaxy
Check out this awesome Hot Toys Gamora Figure from Guardians of the Galaxy. This movie-accurate 1/6 scale Gamora collectible figure is specially crafted to resemble Zoe Saldana as Gamora in the movie.
The Deadliest Woman in the Galaxy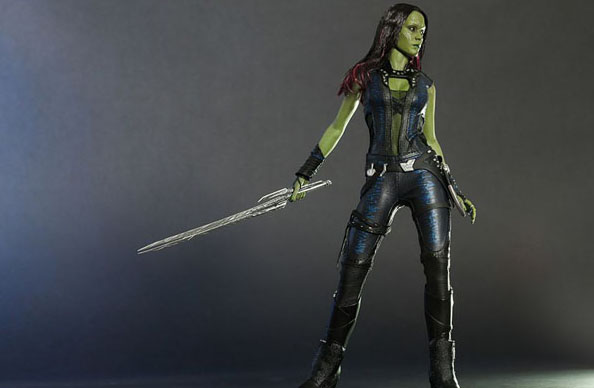 The Hot Toys figure features a highly developed head sculpt, with detailed costume, weapons and accessories.

Height:
Approximately 28cm tall
Special Features:
28 points of articulation
Detailed movie-accurate head sculpt
Expertly crafted to reconstruct the image of Zoe Saldana as Gamora in the movie
Highly detailed costume
Weapons and accessories
Artists:
Head Sculpted by Hyeong Seok, Koh
Head Painted by JC. Hong
Head Art Directed by Jong Hyuk, Park
Release date:
Q1 – Q2, 2015
Gamora in Guardians of the Galaxy Vol.1
Adopted at a young age by Thanos, Gamora was a Zehoberei assassin before becoming a Guardians of the Galaxy member.
When she decided to betray Thanos, she joined Star Lord, Groot, Rocket Racoon and Drax the Destroyer following her capture in the Quest for the Orb.
Described as The Deadliest Woman in the Galaxy, Gamora was trained along side Korath and Nebula as a Galaxy-class killer.

Gamora became the favourite daughter of Thanos due to her superior skills which led to bitterness between Gamora and her adopted sister Nebula.
When Thanos provided Gamora's services to Ronan the Accuser in the first Guardians of the Galaxy movie, she was sent to retrieve the Orb from Star Lord.
Gamora saw an opportunity to gain freedom from Ronan the Accuser and Thanos by joining the Guardians of the Galaxy.
Unable to assist Ronan or Thanos to gain the power of the Orb and destroy Xandar, Gamora decided to betray her employers.
Gamora betrayed Ronan or Thanos by leading the Guardians to a buyer for the Orb. She knew that the Collector would offer a good price for such a powerful item.
I Want This 1/6 Scale Gamora from Guardians of the Galaxy
The 1/6th scale Gamora collectible figure from Hot Toys includes the following features:
Authentic and detailed likeness of Zoe Saldana as Gamora in Guardians of the Galaxy
Newly sculpted head with movie-accurate facial expression
Black and purplish-red real fabric hair implantation
Green-colored face and body with over 28 points of articulations
Approximately 28 cm tall
3x pairs of interchangeable palms including:
1x pair of fists
1x pair of palms for holding sword
1x pair of relax palms
Each piece of head sculpt is specially hand-painted
Costume:
1x leather-like suit with upper body nettings and blue colored patterns
1x pair of black boots
1x black belt with holster and silver colored accessories
Weapons:
1x fully extended sword
1x folded up sword
Accessory:
Figure stand with Gamora nameplate and the movie logo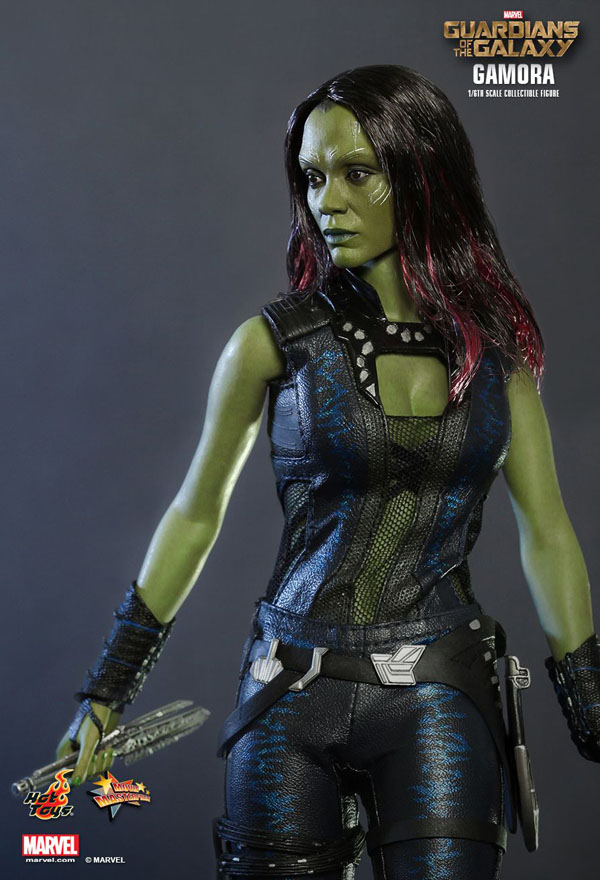 ---

---
Images from hottoys.com.hk
References:
---
Find more Guardians of the Galaxy gifts here.
Check out our page with every Guardians of the Galaxy Hot Toys character .