Hot Toys Groot Guardians Of The Galaxy
This Hot Toys Groot is a spectacular 1/6 scale replica of Groot from the Guardians of the Galaxy movie. The MCU movie launched in 2014 introduced the wider world to Groot, Rocket Racoon, Gamora, Star Lord and the GOTG team.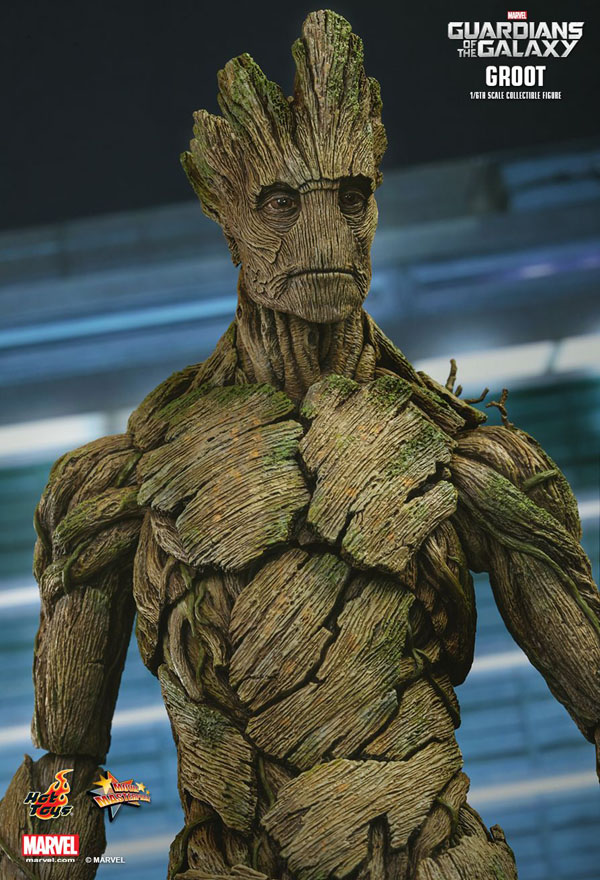 This Collectible Groot Figure features highly detailed head and body. Designed with detailed paint application, this Hot Toys Grooot reflects his distinctive appearance.
The movie-accurate figure comes with a specially designed figure stand, 15 points of articulation and interchangeable hands.
Movie Accurate 1/6 Scale Groot
If you love Guardians of the Galaxy, this movie accurate 1/6 scale Groot is a masterpiece by hot Toys that you will want to add to your collection.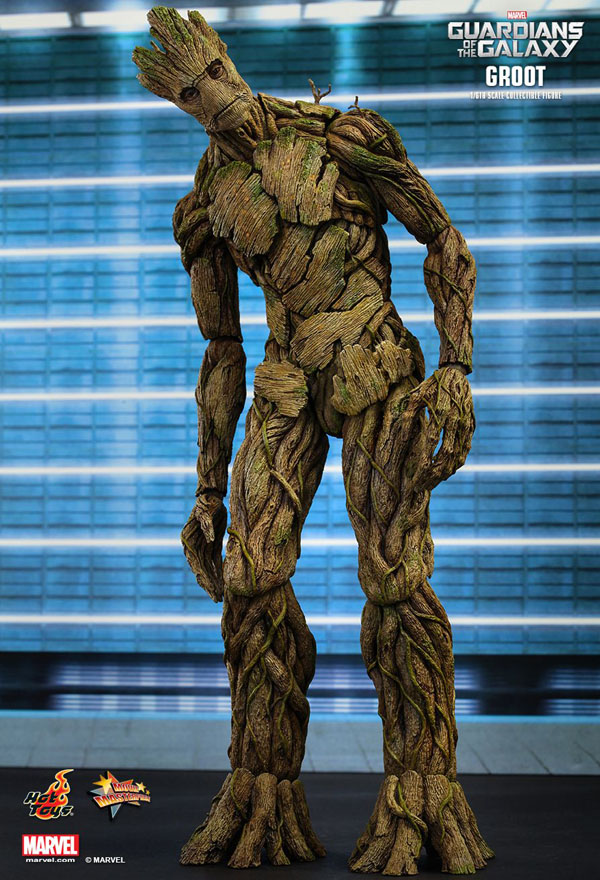 Height:
Approximately 39 cm tall
Special Features:
Highly detailed head and body
Remarkable paint application
Movie accurate appearance
Specially designed figure stand
Artists:
Head Sculpted by Joseph Tsang
Head Painted by Lok Ho
Release date:
Q1 – Q2, 2015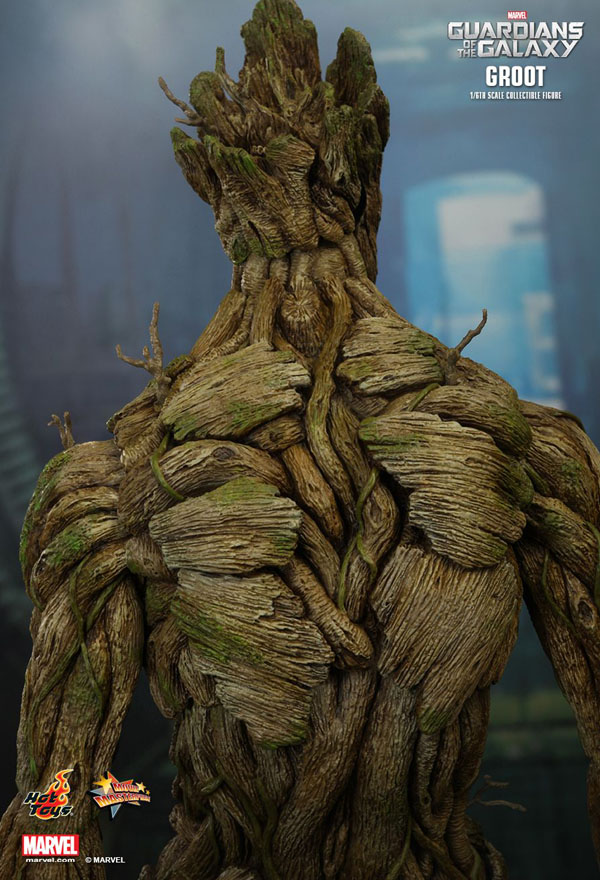 Groot in Guardians of the Galaxy
Originally a bounty hunter working with Rocket Racoon, Groot becomes a member of the Guardians of the Galaxy after attempting to capture Peter Quill as he tries to sell a mystical Orb on planet Xandar.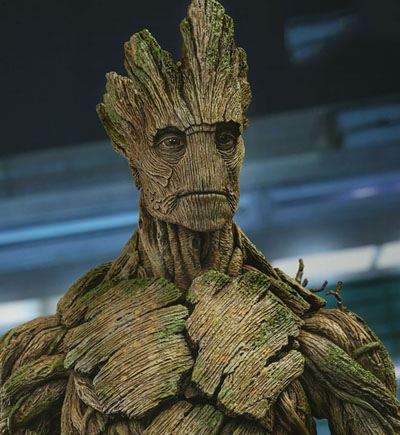 Groot, Rocket Racoon, Gamora and Quill soon team up with Drax to escape the Nova Corps and the Kree militant Ronan.
This is the beginning of the Guardians of the Galaxy in the MCU with Groot as a foundational member.
I Am Groot
Voiced by actor Vin Diesel, Groot only utters three words "I am Groot" throughout his movie performance. Although he only says I Am Groot, this phrase is intended to contain a wide range of meaning.
The crew working with Groot grow to understand Groot after working with him. Rocket Racoon being his long term companion, translates much of the meaning of what Groot says throughout the film.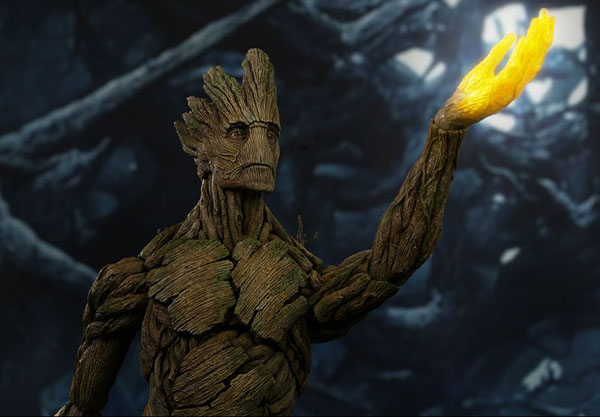 Groot has been a character in Marvel comics since his first appearance in 1960, Tales to Astonish #13, as the creature from Planet X.
Appearing first as a sentient tree-like monster, Groot returned to the Marvel Universe during Annihilation: Conquest as a more heroic figure.
Since then, Groot has become an established member of the Guardians of the Galaxy in the comic books and movies.
Get This Guardians Of The Galaxy Groot from Hot Toys
Any collector of Hot Toys would be proud to add this Guardians Of The Galaxy Groot to their collection.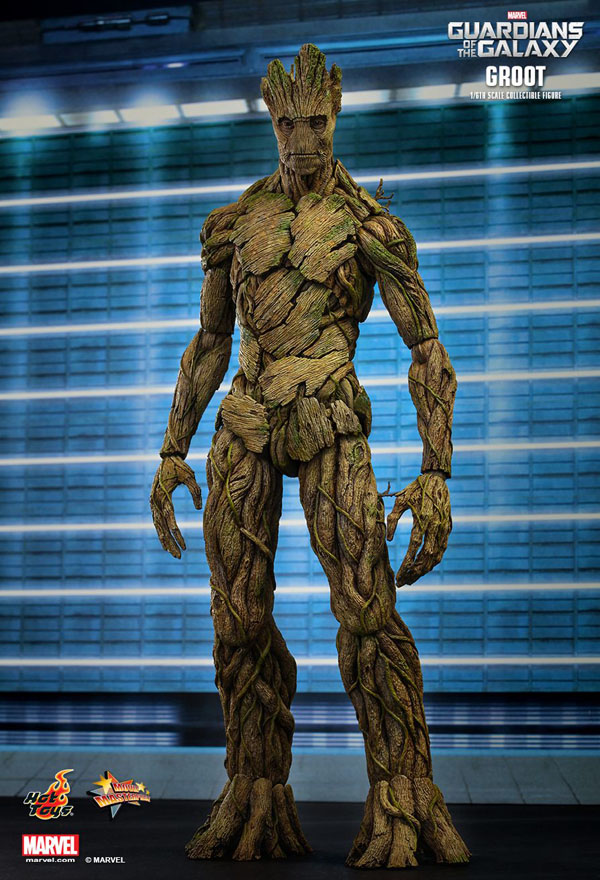 Standing tall at 39 cm, this beautifully sculpted figure will look amazing with your Guardians of the Galaxy Hot Toys.
The 1/6th scale Groot Collectible Figure includes the following features:
Authentic and detailed likeness of Groot in Marvel's Guardians of the Galaxy
Movie-accurate facial expression with detailed tree texture
Unique body with over 15 points of articulations
Approximately 39 cm tall
3x pieces of interchangeable palms including:
1 x pair of relaxed palms
1 x open left palm with real-like glow effect
Figure stand with Groot nameplate and the movie logo
---

---
Product images from: hottoys.com.hk
---
Check out our page with every Guardians of the Galaxy Hot Toys character.
Find more Gifts for Groot fans here.
Find more Guardians of the Galaxy gifts here.