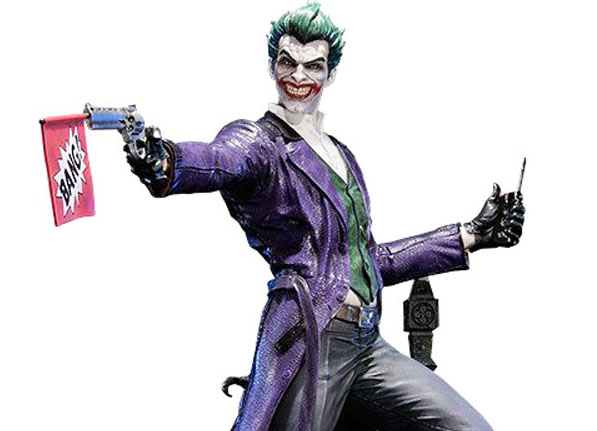 Arkham Origins Joker Statue
This awesome Arkham Origins Joker statue offers a violent portrait of the "Clown Prince of Crime" as featured in the popular Batman: Arkham Origins game.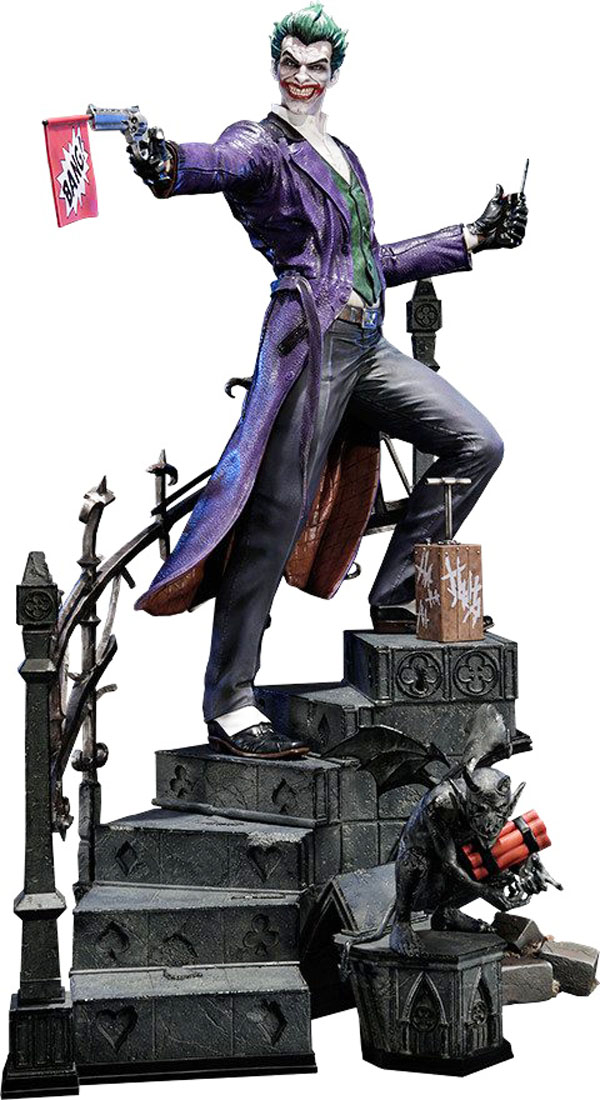 Expertly sculpted by Japanese visual effects company, Prime 1 Studio, this is one of the prime examples of how menacing The Joker can look as a highly detailed statue.
With 3 replaceable Joker faces and interchangeable hands, this statue can be manipulated to provide the perfect display for your collection.
Watch the review of the Prime 1 Studio Arkham Origins Joker Statue by Batman Statue Collector.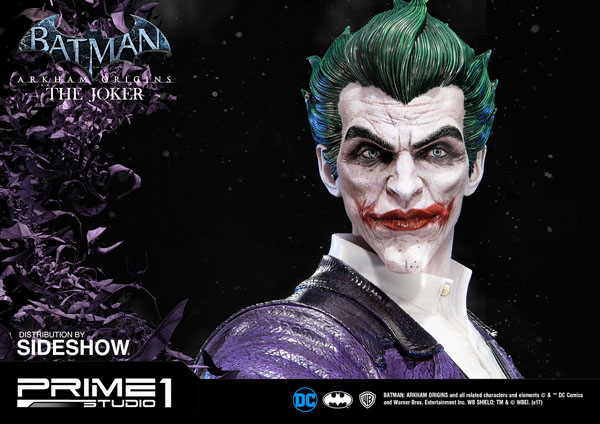 Featuring the iconic DC villain from Batman: Arkham Origins, this 34 inch high statue shows The Joker at his fiendish best.
---
Batman: Arkham Origins The Joker Statue by Prime 1 Studio
This Prime 1 Studio statue stands approximately 34 inches tall and offers a grim vision of The Joker from Batman: Arkham Origins.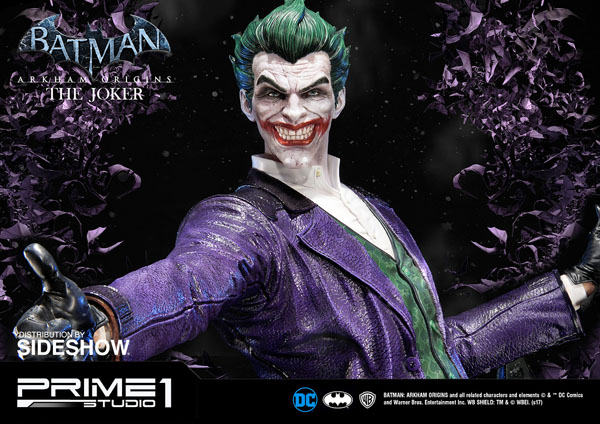 Size approximately 34 inches tall
Interchangeable left hand holding a remote bomb
Interchangeable left hand holding knife
Interchangeable right hand holding a pistol
Interchangeable right hand holding a fake pistol with flag "Bang!"
Interchangeable right-hand finger gun gesture
Interchangeable right-hand good hand gesture
Three alternate Joker Portraits
Watch this statue review by MCE to view more about this amazing Arkham Origins Joker Statue.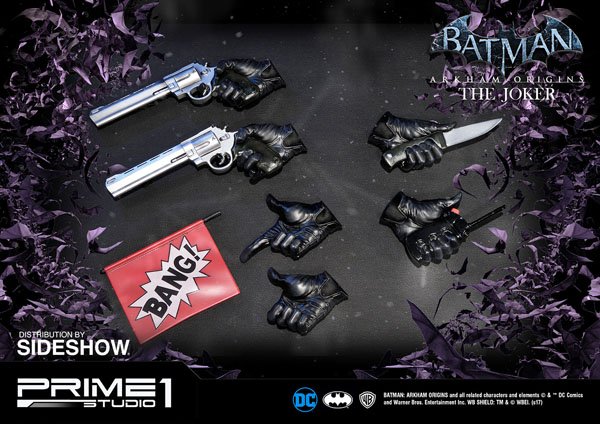 The insane Batman supervillain poses on top of a staircase with a bomb detonator in one hand and a gun with a BANG! flag pointing out.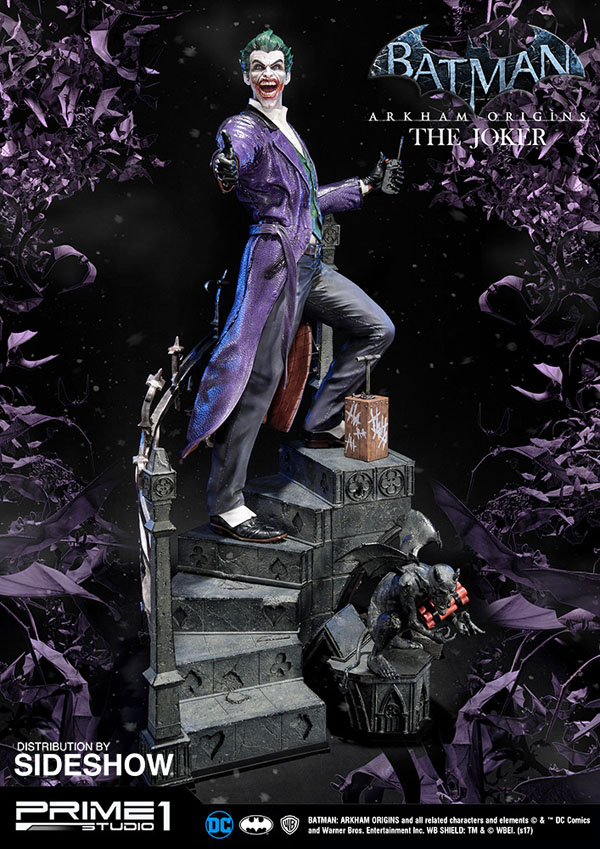 Swap the Joker's right hand for a pistol, a finger gun, thumbs up or the fake pistol with BANG! flag.
The left hand can be swapped between holding a knife or a remote bomb detonator.
Height: 33.85″ (859.79 mm)
Width: 20.86″ (529.84 mm)
Depth: 17.71″ (449.83 mm)
Prime 1 Studio Statues
Based in Japan, Prime 1 Studio is a visual effects company which manufactures and sells high quality figures of movies and games characters.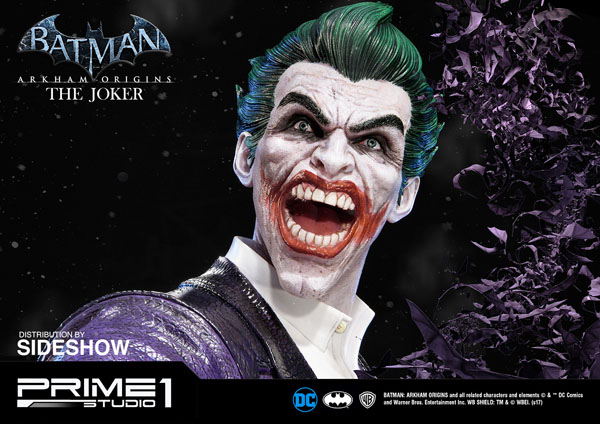 Prime 1 holds various licenses for a variety of top-rated pop culture icons, including characters from Transformers, Teenage Mutant Ninja Turtles, DC Comics, The Witcher, and many more.
If you are a fan of DC comics and The Joker, you will be impressed by this superb statue.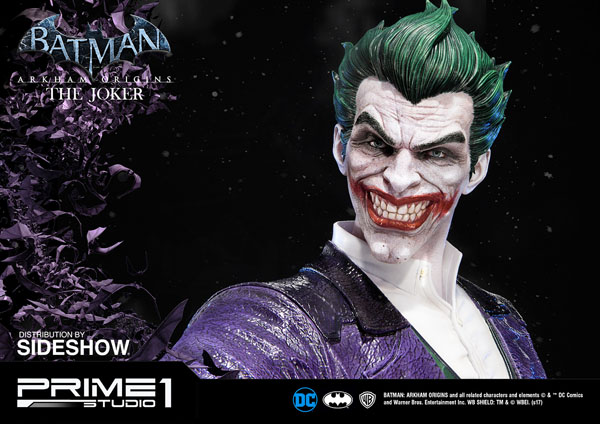 Follow the link below to find out more and order your Arkham Origins Joker Statue before it sells out.
---
If love the Joker or collect Batman and DC statues, check out out our full guide to the Best Joker Statues and Busts.