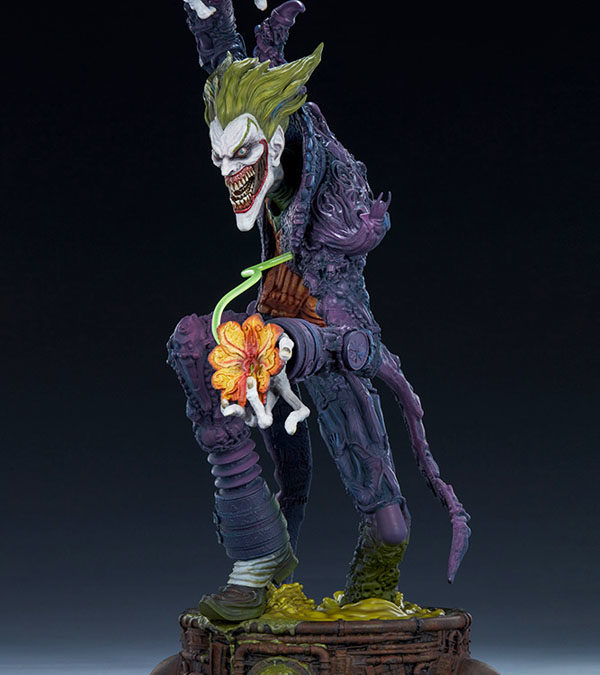 Gotham City Nightmare Joker Statue
This Gotham City Nightmare Joker Statue by Sideshow Collectibles lets us see the iconic foe of Batman through eyes of fear.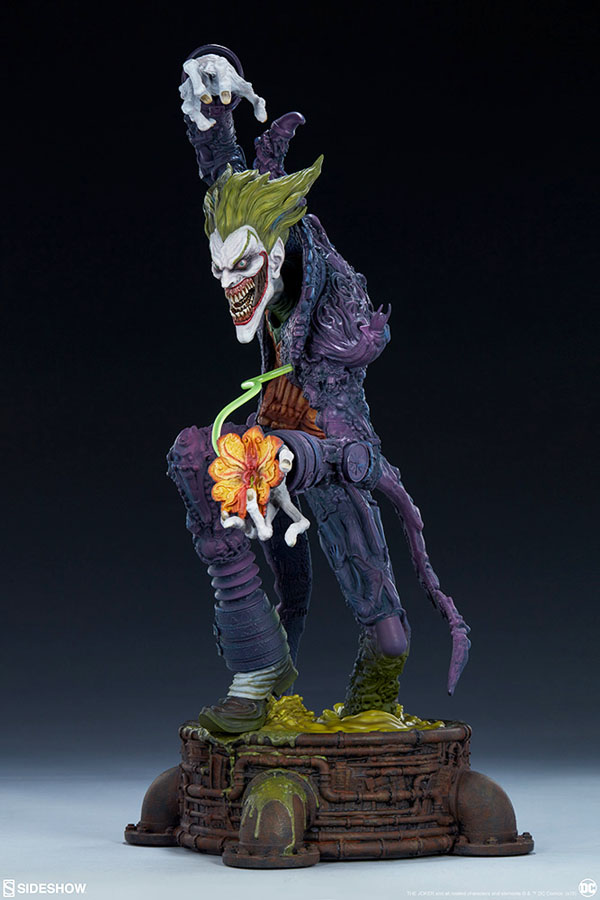 Watch the unboxing of The Joker Statue by Sideshow Collectibles.
You can watch this review of the statue here by Superpower Reviews.
If you think this Gotham City Nightmare Joker statue would look amazing in your collection, you can buy it here.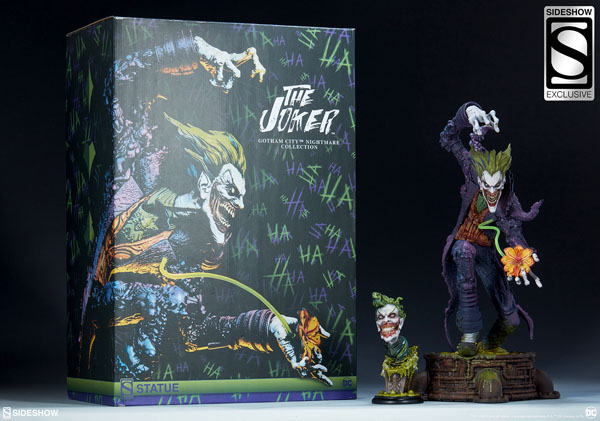 Get your Sideshow Collectibles Joker statue by following the link below.
---
Sideshow Collectibles Joker: Gotham City Nightmare Collection
Look closely and find hidden Easter eggs throughout this intricate sculpture.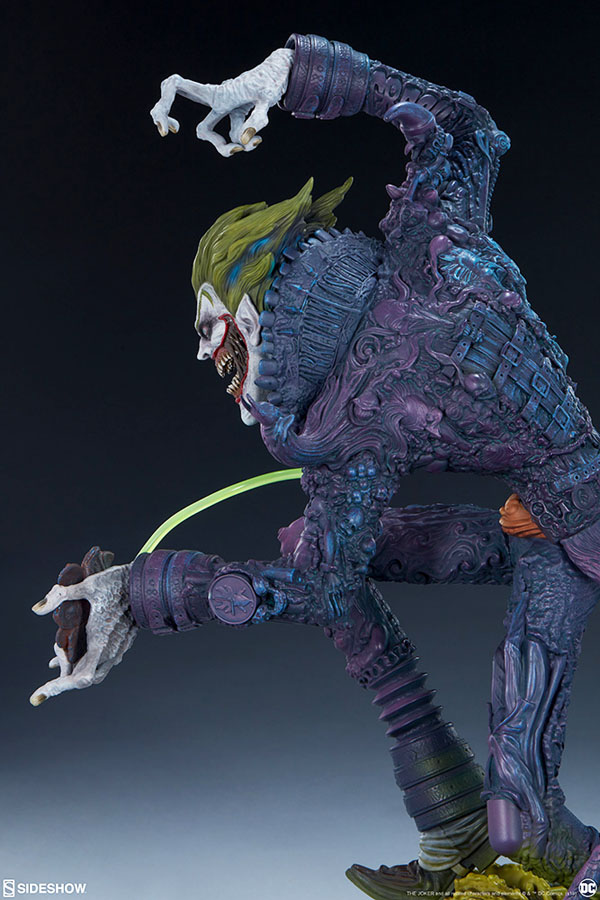 Designed by Sideshow Collectibles, this freaky statue captures all of the moments from The Joker's history.
Imprinted in fine detail throughout the sculpture are references to the life of The Joker including Arkham Asylum, Ace Chemicals and his conflict with Batman.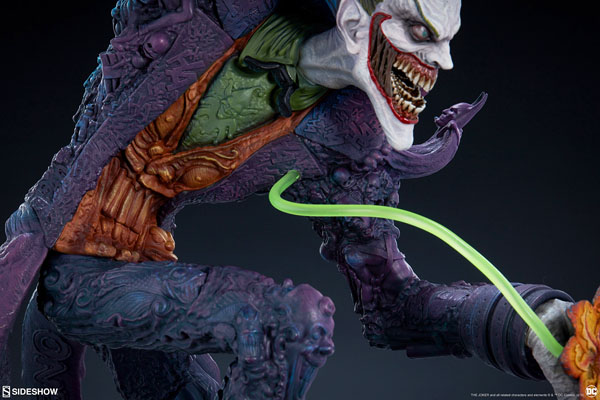 The details of the sculpt offer a homage to artists like Jim Lee, Frank Miller, Dave McKean, and more.
Included in the tapestry of his suit is imagery of Harley Quinn, Red Hood, strange faces and a school of Joker Fish.
Artists
Guillermo Barbiero (Sculpt)
Kat Sapene (Paint)
Jimmy Xu (Design)
Casey Love (Paint)
Paul Komoda (Design)
Amilcar Fong (Design)
The Sideshow Design and Development Team
Martin Canale (Sculpt) (Design)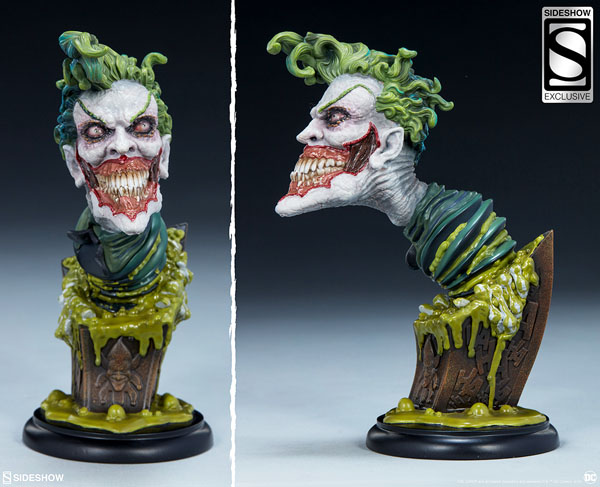 We took the insanity of The Joker and made his entire makeup a tableau of bas-relief Easter eggs of his entire existence.

Creative Director Tom Gilliland
Get Your Limited Edition Nightmare Joker Statue
Sideshow is thrilled to present The Joker Statue, the next twisted face in the Gotham City Nightmare collection.
These statues dare to ask, what would the familiar faces of Gotham become when viewed through eyes filled with fear?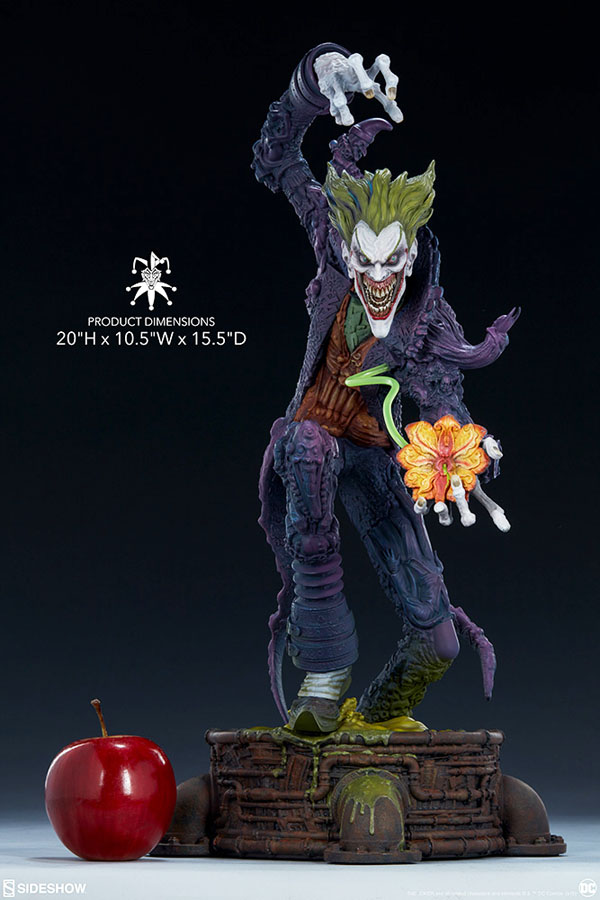 The Joker Statue measures 20" tall, emerging from a chemical vat filled with venomous green acid.
Beneath copper-colored pipes, the architecture of Gotham City can be seen laying the groundwork for the rise of this nightmarish Clown Prince of Crime.
Product Size
Height: 19.25″ (488.95 mm)
Width: 11″ (279.4 mm)
Depth: 15.75″ (400.05 mm)
This intricate statue is bursting with brilliant details revealing just what makes The Joker who he is, sculpted in polystone with vinyl and PVC elements.
From Ace Chemicals to the famed Arkham Asylum as his backbone, The Joker Statue will keep you captivated by the horror as you search for references to the some of the villain's most infamous moments.
Spot Harley Quinn and Red Hood, a school of Joker Fish and freakish faces, and homages to artists like Jim Lee, Frank Miller, Dave McKean, and more all wrapped up in this warped vision of the Clown Prince of Crime.
Can you find all the hidden secrets? Lean in closer, but beware The Joker as he offers you a gag flower- or else the joke may be on you!
Have the last laugh and add The Joker Statue from Gotham City Nightmare to your collection today.
---
If love the Joker or collect Batman and DC statues, check out out our full guide to the Best Joker Statues and Busts.