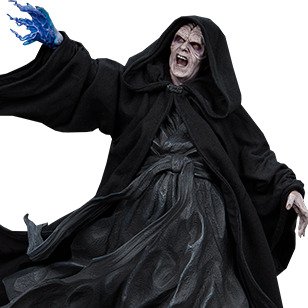 Darth Sidious Mythos Statue
There is no doubt that this Darth Sidious Mythos Statue will impress your friends. This Darth Sidious statue stands at 21inches tall and makes a powerful impact.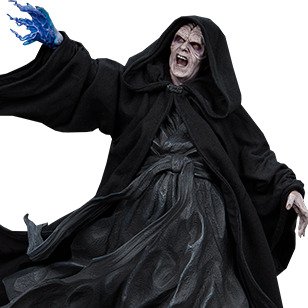 | Description | Darth Sidious Mythos Statue by Sideshow Collectibles |
| --- | --- |
| As Seen In | Star Wars |
| Manufacturer | Sideshow Collectibles |
| Character | Darth Sidious / Emperor Palpatine |
| Statue | 21" Mythos Statue – Fabric , Polystone , PVC |
| Product Size | Height: 21″ (533.4 mm) | Width: 20″ (508 mm) | Depth: 9.5″ (241.3 mm) |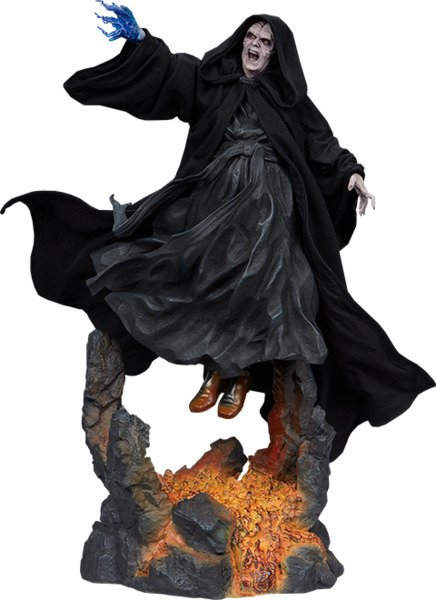 Sideshow presents the Darth Sidious Mythos Statue, ready to join your Star Wars collectibles.
The Darth Sidious Statue measures 21" tall, as the vengeful Sith levitates over the roiling lava of the volcano planet Mustafar.
Drawing power from the dark side of the Force, Sidious shoots a blue bolt of lightning from his gnarled fingertips in a fearsome display of rage.

Emperor Palpatine as depicted in this Darth Sidious Statue embodies the evil of the Dark Side. Sideshow's Mythos series are fine art collectibles that allow the collector to imagine what could have been, but maybe never was. Myths meant to be initiated by the eye and completed by the mind.
The Darth Sidious Mythos Statue will make an impressive…most impressive addition to any Star Wars collection. Rule the galaxy and add him to your collection today!
The polystone Darth Sidiou Statue features PVC elements as well as a black fabric cloak over sculpted inner robes
Designed to capture windswept motion as the villain hovers over the volcanic planet Mustafar
Fabric cloak also has internal wiring to pose for added dynamism
Emperor Palpatine's iconic portrait is detailed with sunken yellow eyes, darkened teeth, and a wrinkled, aged complexion
Includes a swap-out left hand wielding an extended red Sith lightsaber blade
---
Who is Darth Sidious?
Darth Sidious, born Sheev Palpatine is also known simply as the Emperor. He was a human male Dark Lord of the Sith and Emperor of the Galactic Empire, ruling from 19 BBY to 4 ABY.
Palpatine rose to power in the Republic Senate as the senator of Naboo. The secretive Sith Lord cultivated two identities, Sidious and Palpatine, using both to further his political career.
He orchestrated the fall of the Galactic Republic and the Jedi Order through the Clone Wars, and then established his reign over the galaxy which lasted until his death at the Battle of Endor.
Sidious was secretly trained in the ways of the Sith by Darth Plagueis. He eventually killed his Sith Master in order to train his own Sith apprentice, Darth Maul.
Declaring himself Galactic Emperor, Darth Sidious installed the New Order in the Republic's place and brought an end to a millennium of democracy.
He had also taken another new apprentice, having lured the Jedi Knight Anakin Skywalker to the dark side and transforming him into Darth Vader.
Get This Darth Sidious Statue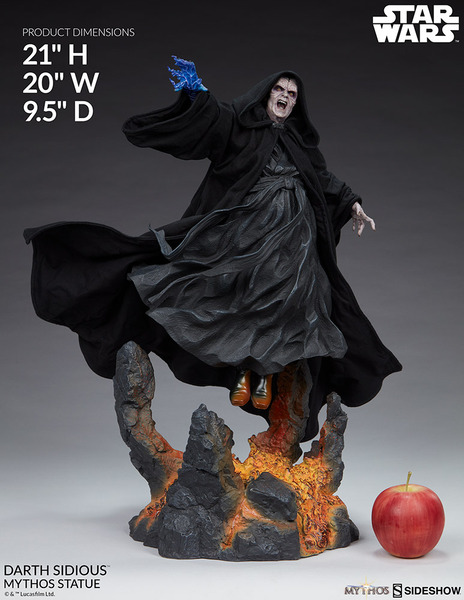 ---
If you loved this Darth Sidious Mythos Statue, be sure to check out our page dedicated to Star Wars Statues and Busts.
We also have many more gift ideas for Star Wars fans on our Star Wars Gifts page.