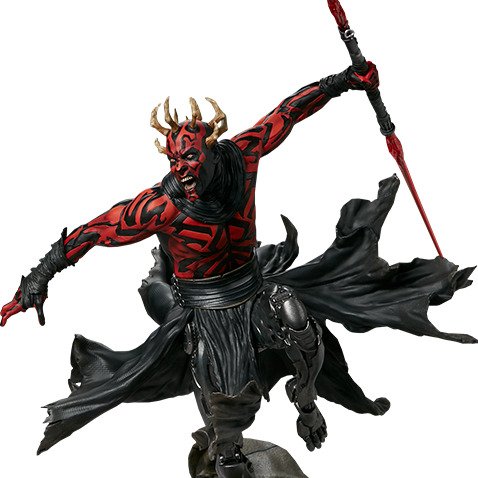 Are you looking for a Darth Maul Statue to impress your friends? This Darth Maul Mythos statue stands at 23.5 inches tall making your Star Wars collection even more awesome.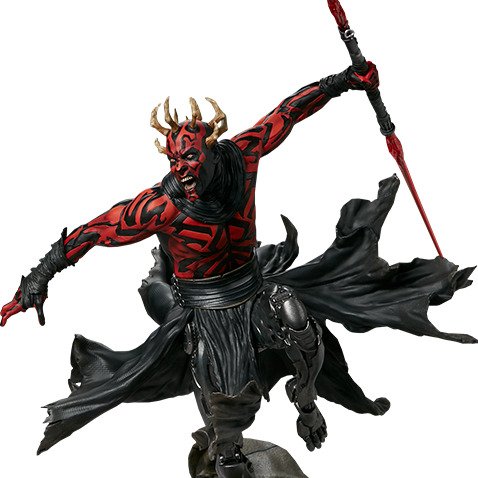 | Description | Darth Maul Mythos Statue by Sideshow Collectibles |
| --- | --- |
| As Seen In | Star Wars |
| Manufacturer | Sideshow Collectibles |
| Character | Darth Maul |
| Statue | Sideshow Collectibles Mythos Statue |
| Product Size | Height: 23.5″ (596.9 mm) | Width: 16″ (406.4 mm) | Depth: 17″ (431.8 mm) |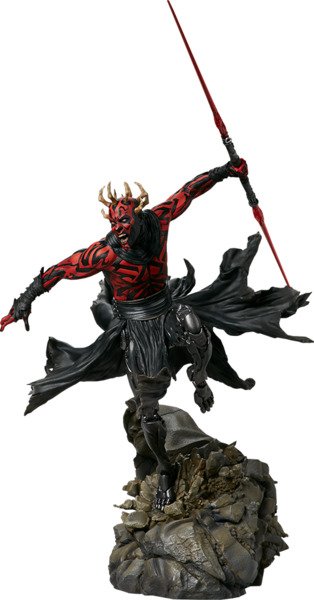 Sideshow presents the Darth Maul Mythos Statue. This limited edition Star Wars collectible statue commands attention as the imposing Sith Lord displays the true power of the Dark Side.
The Zabrak warrior leaps from the crumbling ruins of a Sith temple monument, wielding his iconic dual-bladed red lightsaber.
Standing over 23.5″ tall, this Darth Maul Statue strikes a menacing pose.

The polystone Darth Maul Statue features a fully sculpted costume composed of weathered black skirts, belts, arm wraps, and a black collar
The statue features powerful, highly detailed robotic legs
Darth Maul is also covered in customary Zabrak markings
This dynamic statue also includes two portraits for collectors to choose from; one grimacing head with shortened horns, and one raging head with longer horns
The Darth Maul Mythos Statue will make an impressive addition to any Star Wars collection. Add him to your collection today!
---
Who is Darth Maul?
Maul, once known as Darth Maul, was Sith apprentice of Darth Sidious. He is a Force-sensitive Dathomirian Zabrak male who established himself as a crime lord during the reign of the Galactic Empire.
Having trained in the ways of the Force, Maul is a formidable warrior. He is strong with the dark side and deadly skilled in lightsaber combat.
In addition, he is a scheming mastermind who plotted his return to power despite losing his place in the ranks of the Sith.
Maul remains driven by the desire for revenge, specifically against Sidious, the Master who disowned him, and Kenobi, the Jedi who defeated him.
Get This Darth Maul Statue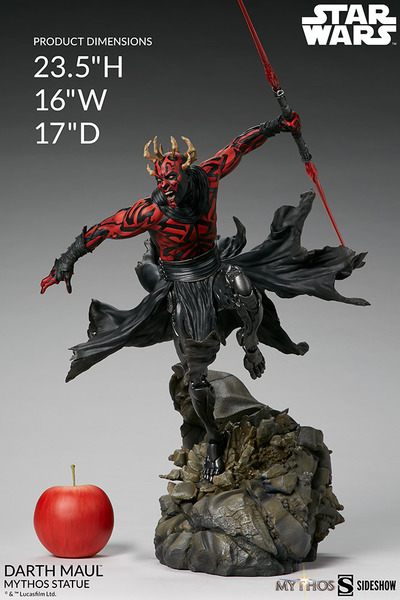 ---
If you loved this Darth Maul Mythos Statue, be sure to check out our page dedicated to Star Wars Statues and Busts.
We also have many more gift ideas for Star Wars fans on our Star Wars Gifts page.