Asajj Ventress Mythos Statue
Are you looking for an Asajj Ventress Statue to impress your friends? This Asajj Ventress Mythos Statue stands at 23 inches tall making a truly powerful impact.

| Description | Asajj Ventress Mythos Statue by Sideshow Collectibles |
| --- | --- |
| As Seen In | Star Wars : The Clone Wars |
| Manufacturer | Sideshow Collectibles |
| Character | Asajj Ventress |
| Statue | Sideshow Mythos Statue |
| Product Size | Height: 22.97″ (583.44 mm) | Width: 14.27″ (362.46 mm) | Depth: 12.97″ (329.44 mm) |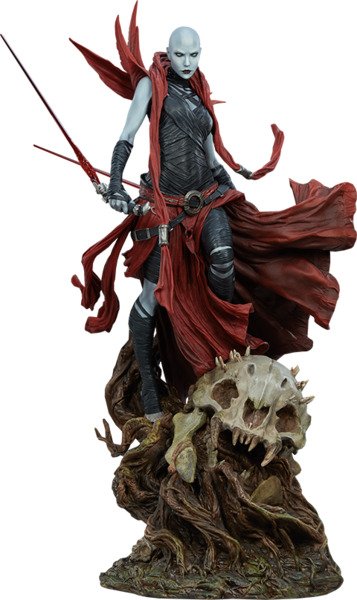 Sideshow Collectibles presents the Asajj Ventress Mythos Statue. This limited edition Star Wars collectible statue commands attention as she stands poised on the growths of a Dathomirian swamp base.
Beneath the feet of Asajj Ventress lies a Ssurian skull snared in the vines of her home planet, Dathomir's native flora as the Sith assassin wields her dual red lightsabers as she prepares for battle.
The polystone Asajj Ventress Mythos Statue includes PVC elements. The figure features an intricate, fully sculpted Nightsisters' costume in the traditional black and red hues which is detailed with dynamic fabric-like movement.
The Asajj Ventress Mythos Statue includes black bodice, leg guards, and gloves that all have a wrapped and roughened appearance. Her skirts, red hood, and the feathers adorning her shoulders are sculpted with a dramatic, billowing flow.
---
Who is Asajj Ventress?
Asajj Ventress is a Dathomirian female who. She has been a slave, a Jedi Padawan, an Sith assassin, a Nightsister and a bounty hunter.
Ventress was born in the final decades of the Galactic Republic's reign. She began life in clan of Force-sensitive Nightsister witches on the planet Dathomir led by Mother Talzin.
Early in her life, the criminal Hal'Sted forced her coven to give up Ventress. Hal'Sted transported Ventress away from her sisters to the war-torn world of Rattatak. On Rattatak she became a slave of Hal'Sted.
As the pan-galactic Clone Wars erupted, Ventress became a commander in her Master's Separatist droid military. She also became employed as an assassin of the Sith.
Her exploits brought her into conflict with the Jedi Order. Asajj Ventress became renowned for her skill and cruelty as she waged war against the Galactic Republic.
She frequently fought with Jedi Master Obi-Wan Kenobi and Jedi Knight Anakin Skywalker, who were often assigned to counter Ventress's efforts.
Add This Asajj Ventress Mythos Statue To Your Collection

---
If you loved this Asajj Ventress Mythos statue, be sure to check out our page dedicated to Star Wars Statues and Busts.
We also have many more gift ideas for Star Wars fans on our Star Wars Gifts page.