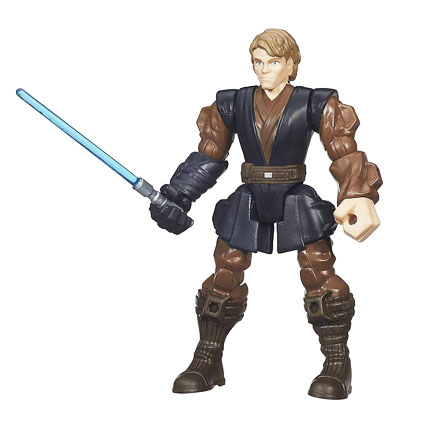 Star Wars Anakin Skywalker Mashers
Are you collecting Hasbro Star Wars Hero Mashers? Add this Anakin Skywalker Mashers to your collection. Mix and match parts with other Star Wars Characters to create custom mash-ups.

If you are collecting the Star Wars Hero Mashers by Hasbro, you will know how much fun they are.
Star Wars Hero Mashers Anakin Skywalker by Hasbro
These collectible action figures feature common connection points that allow you to detach the head, arms, and legs and reconnect them any way you like!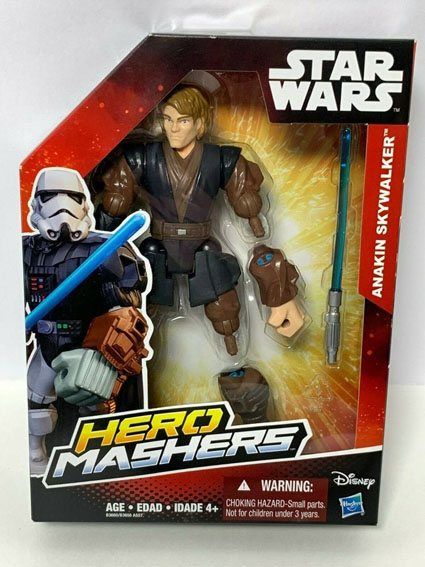 Anakin Skywalker, a Force-sensitive human male, was a Jedi Knight of the Galactic Republic and the Chosen One of the Force.
During the Clone Wars, his accomplishments as a battlefield commander earned him the Hero With No Fear moniker.
After turning to the dark side of the Force, he became known as Darth Vader—Dark Lord of the Sith and apprentice to Emperor Darth Sidious.
Mix and match parts to create custom mash-ups
Anakin Skywalker figure has 9 points of articulation
Parts are compatible with other Star Wars Hero Mashers figures (sold separately)
Collect the wide range of articulated Star Wars action figures that are each sold separately
Action figure size: 6 inches


---
Universal connectors let you mix and match parts and accessories with any other Star Wars Hero Mashers figure (sold separately) so you can customise your hero your own way.
We've got a wide range of all your favourite Star Wars characters to choose from including: Anakin Skywalker, Darth Vader, Chewbacca, Jar Jar Binks, C-3PO and many more!
Do you want to get hold of every Star Wars Hero Mashers figure? Check out our Star Wars Mashers checklist.