Incredible Lego LED Lights
If you love building with Lego then you will be as impressed as we were when we discovered these Incredible Lego LED Lights kits.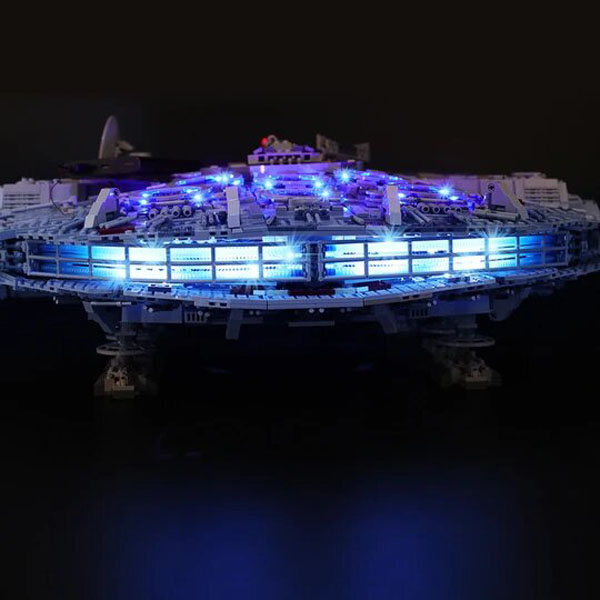 From Hogwarts Castle to the Taj Mahal, we have found amazing lighting kits to illuminate your favourite Lego sets.
Adding these custom designed lighting sets to your Lego display will bring your sets to life in the day or at night.
Whether you want to add life to your Millennium Falcon or show off your Disney Castle at night, these Lego LED lights offer the finishing touch to your display.
---
Check Out These Amazing Lego Sets that Light Up!
Do you own a Harry Potter or a Star Wars Lego set that you would like to light up?
Check these sets below to see it your favourite Lego build is included.
---
Light Kit For NASA Apollo 11 Lunar Lander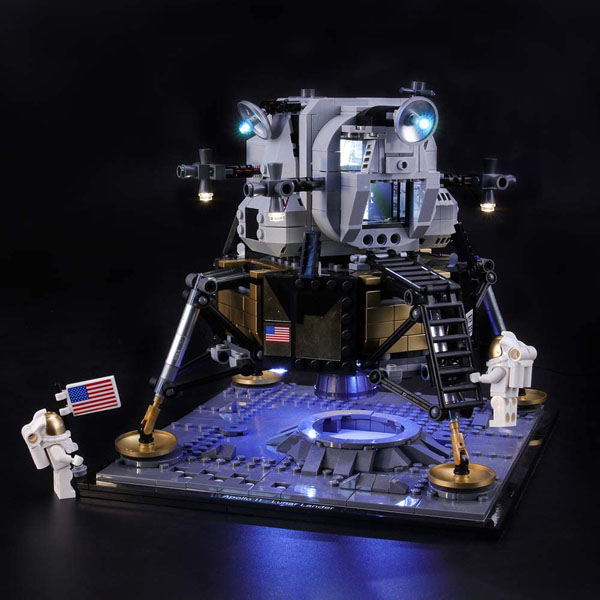 Make your Apollo 11 LEGO bricks glow with these specially designed impressive LED lights.
We are amazed by how good these LED lights look for the LEGO NASA Apollo 11 Lunar Lander 10266 kit.
If you have the LEGO Apollo 11 Lunar Lander 10266 kit, you can improve how this amazing model looks with this awesome set of LED lights.
---
The Ultimate Batmobile Lego LED Lights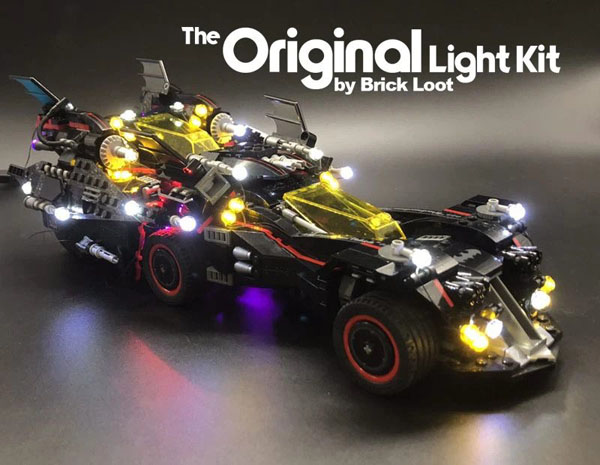 The Ultimate Batmobile owners are one step away from adding supreme illumination to this incredible Lego model.
Adding these impressive lights will transform The Ultimate Batmobile into a glowing vehicle ready to patrol the night-time streets of Gotham.
The Ultimate Batmobile 70917 allows you to create this stylish Batman vehicle which can divide out into 4 separate vehicles: the Batmobile, Batwing, Bat-Tank and Batcycle.
Add these Batmobile LEGO LED lights from Brick Loot for the perfect finish.
---
LEGO Taj Mahal LED Lighting Kit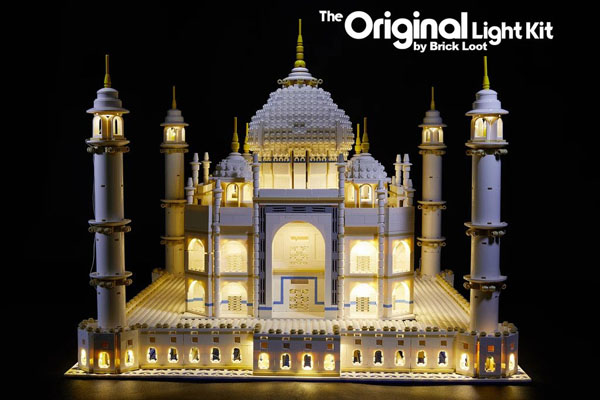 You can add LED lighting to your LEGO Taj Mahal 10256 to make your building glow at night.
This impressive replica of the Taj Mahal is one of the largest Lego models ever created. This famous landmark is recreated by Lego in amazing detail.
Illuminating your Taj Mahal build will show off all of the impressive details first designed for the Emperor Shah Jahan.
---
Ultimate Millennium Falcon Lego Light Set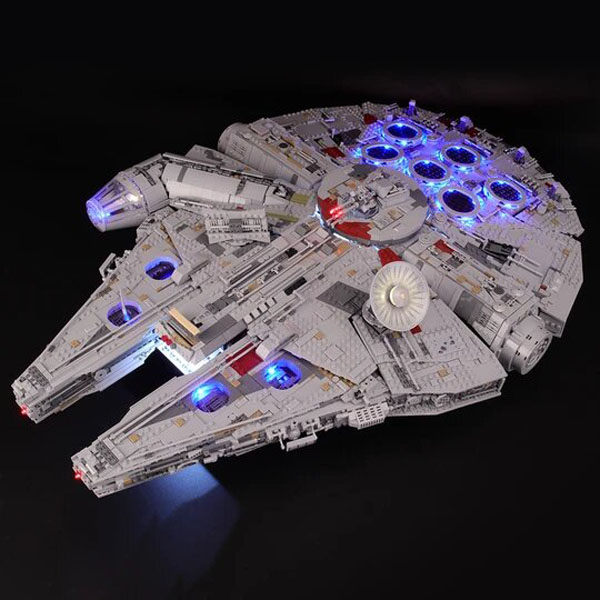 These LEGO Ultimate Millennium Falcon LED lights provide the perfect finish to your completed Star Wars Lego build.
If you have recently built a LEGO Ultimate Millennium Falcon 75192 you are one step away from making it even more awesome.
These custom designed LEGO LED Lights Gives your Lego Ultimate Millennium Falcon a new life.
---
Simpsons Kwik-E-Mart Lights Kit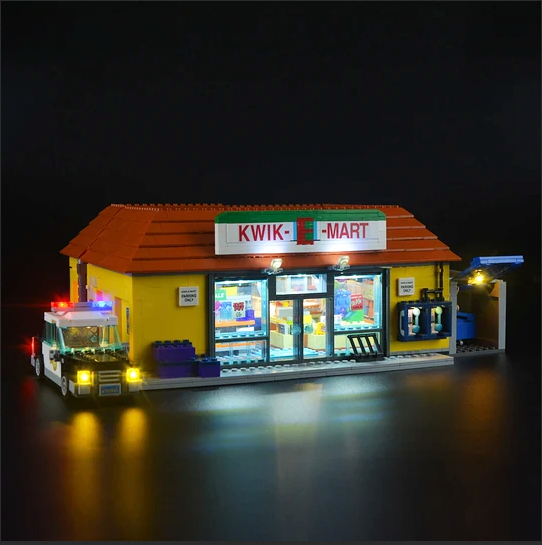 Illuminate the details of this famous store from the Simpsons TV series and show off your wonderful creation.
This LEGO Kwik-E-Mart features all of your favourite brands from out of the show.
Features include: Krusty-O's, Chef Lonelyheart's Soup for One, Buzz Cola and Powersauce.
Now your Simpsons Kwik-E-Mart Lego set can look just as good at night as they do in the day.
---
The Skull Arena Minecraft Lego Lights

The specially designed kit lights up the adventure as your Lego minifigures do battle.
The Skull Arena 21145 is a favourite with Minecraft Lego fans.
Now it can look even more impressive with this LED light system to illuminate the action.
---
Hogwart's Castle Lego LED Lights

Anyone who has built Hogwart's Castle 71043 knows how incredible the finished model looks.
But there is one more thing you can do to make it even more spectacular!
And what better way to display our work than with custom designed multi coloured LED illumination?
---
LED Lights for Lego Disney Castle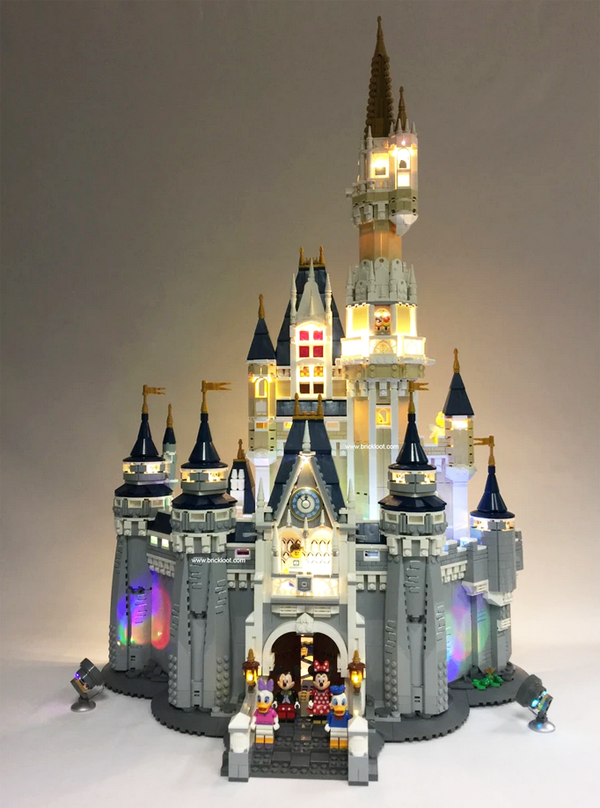 If you have built the magical LEGO Disney Castle 71040 and want to show it off to your friends and family, you can add an extra sparkle to your display.
When Lego released the iconic 4080 Piece Disney castle, fans went wild for it.
Kids and adults brought up on the world of Disney could finally build and play within the Cinderella Castle from the famous Walt Disney World.
---
Light Kit For Yellow Submarine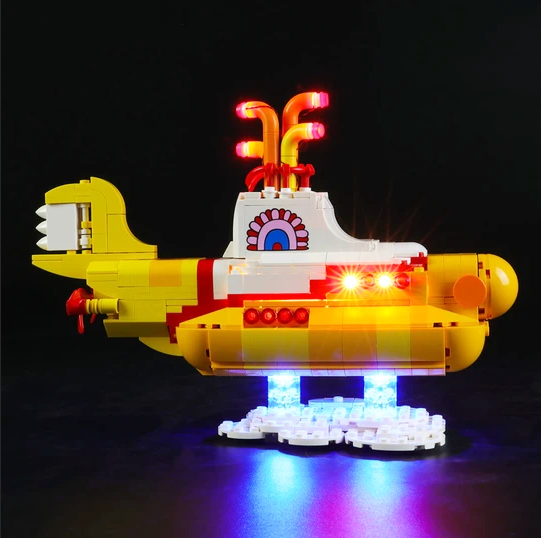 Now you can bring your Lego Yellow Submarine to life with this LED Light kit.
Fans of the Beatles went crazy for the Lego Yellow Submarine 21306 based on the 1968 film.
If you were luck enough to own and build this iconic Lego Yellow Submarine, you are one step away from making it even more incredible.
---
Ghostbusters Headquarters LED Kit

Make your Ghostbusters Headquarters glow with these Lego LED Lights.
If you are a Ghostbusters Lego fan, there is a good chance that you have built this amazing Lego Headquarters 75827.
This amazing replica of the Firehouse Headquarters lets you play with 9 minifigures based on characters from the Ghostbusters movies.
Light up the interior as Peter Venkman, Raymond Stantz, Egon Spengler, Winston Zeddemore prepare for their next adventure.
---
Lego Volkswagen T1 Camper Van Light Kit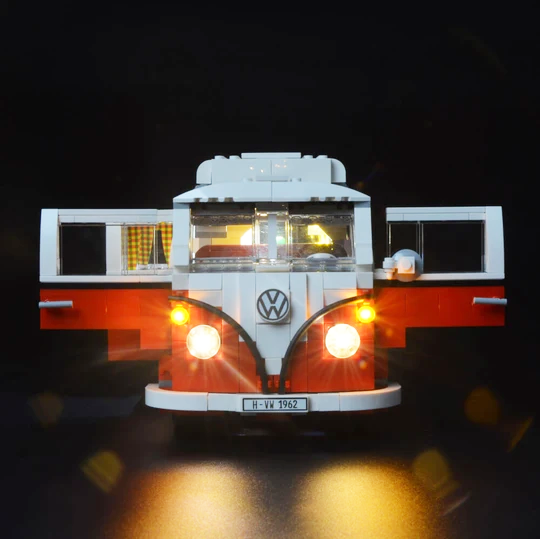 Add the finishing touch to your Lego Volkswagen Camper van T1 with these beautiful LED Lights.
Fans of the Volkswagen Camper van have fallen in love with this buildable Lego replica of the VW T1 Camper.
This set of specially designed LED lights will bring your Volkswagen T1 Camper Van 10220 to life. Show off the detail of this 1334 piece model which you can display in the day or at night.
---
LEGO Stranger Things: The Upside Down Set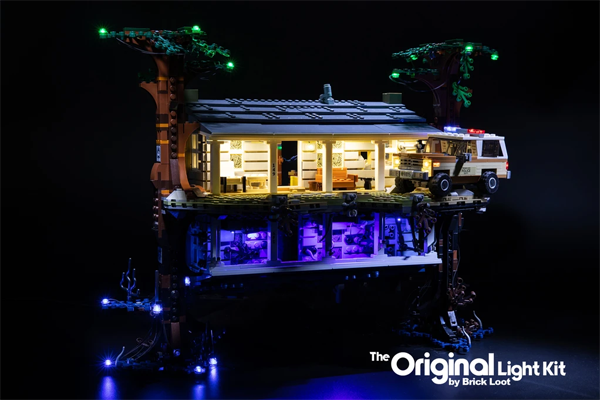 Add extra spooky impact to your Stranger Things: The Upside Down set with these Lego LED Lights.
Featuring Eleven, Dustin Henderson, Mike Wheeler, Lucas Sinclair, Will Byers, Chief Jim Hopper, Joyce Byers and the Demogorgon minifigures, this model let you replay the action in your own home.
Now with this specially designed LED light set, you can illuminate your Lego creation and show it off in the day or night.
---
Did you spot your favourite Lego LED Lights set?
If you do not see your Lego model in the examples below, follow the links to check if there are similar kits available.
---