Lego LED Lights For The Skull Arena 21145
Check out these super impressive LED lights for the Minecraft Lego Skull Arena.

The Skull Arena 21145 is a favourite with Minecraft Lego fans.
Now it can look even more impressive with this LED light system to illuminate the action.
This video by Briksmax shows off how cool your Minecraft Lego set can look.
The specially designed lighting kit from BriksMax lights up the adventure as your Lego minifigures do battle.

The eyes of the giant skull feature are illuminated as the lit-up killer bunny watches over the scene.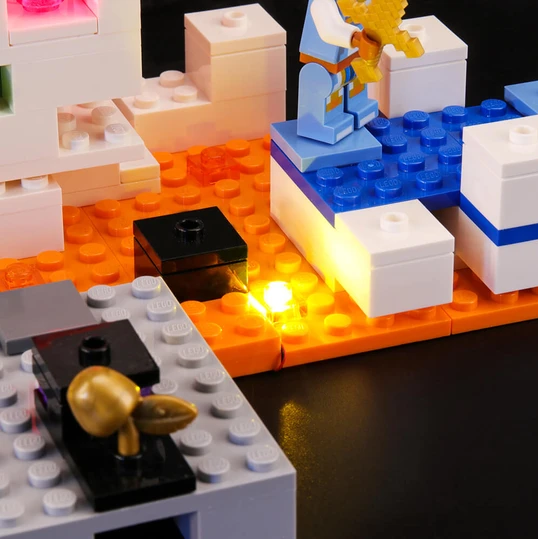 If you own the Minecraft Skull Arena Lego set, then you can double the fun with these purpose built LED lights.
Light Kit For The Minecraft Lego Skull Arena
This LED light kit gives your Lego The Skull Arena a new life.
This light kit is specifically designed for Lego Minecraft Skull Arena 21145.

Your set will look amazing once you complete the installation.
When the LED kit is switched on, these lights can illuminate your bricks every night.
1 x 30cm White Light
2 x 15cm White Light
2 x 15cm Red Light
1 x Six-Port Expansion Board
1 x Oval CR2032 Battery Pack
1 x Adhesive Squares
1 x 30cm USB Power Cable
1 x Instructions
1 x User guide
1 x After sales card
Now you can enjoy the details of Skull Arena at any time.
So make a huge upgrade for your Skull Arena with BriksMax LED lighting kits and bring your Lego set to live now.
This is the best way to show off your Lego creations and have tons of fun!
Get 5% off your purchase when you mention the Coupon Code: GEEKHUT
---
If you liked this then check out more illuminated Lego sets in our article Incredible LEGO LED Lights.