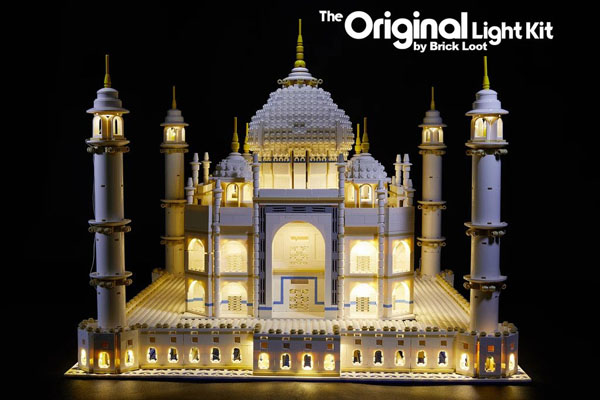 LEGO Taj Mahal Lighting Kit
LEGO fans will love this Taj Mahal Lighting Kit. This custom made LED light set will illuminate your Taj Mahal 10256 Lego set beautifully.
The LEGO Taj Mahal 10256 is an incredible 5923 piece structure that brings this beautiful building to life in your home.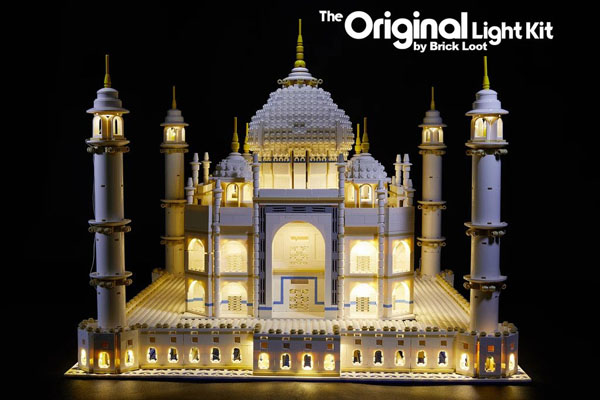 This impressive replica of the Taj Mahal is one of the largest Lego models ever created. This famous landmark is recreated by Lego in amazing detail.
With this LEGO Creator Expert kit, you can build sweeping arches, balconies and arched windows designed to recreate the original structure.
Watch this LEGO Taj Mahal lighting video by Brick Loot.
If you have managed to complete the build of this LEGO Taj Mahal, you are one step away from making it even more Awesome!
You can add LED lighting to your LEGO Taj Mahal 10256 to make your building glow at night.
Illuminating your Taj Mahal build will show off all of the impressive details first designed for the Emperor Shah Jahan.
Are you ready to add LEGO Taj Mahal Lighting Kit to your 10256 completed model? Follow this link to get your LED kit.
---
LED Lighting Kit for LEGO Taj Mahal 10256
When you install our custom light kit, the intricate LEGO Taj Mahal will be the highlight of your model collection!

This handmade kit includes 292 brilliant LEDs which illuminate the architectural details, towers, and interior rooms of this LEGO model of one of the world's most famous landmarks.
Turn on the beautiful lights and you can easily imagine what the real Taj Mahal looks like at night!

Installing and powering your light kit: It is fun and easy with our plug and play design!
LEGO Taj Mahal 10256 set not included.
This Brick Loot LED Kit is low voltage and uses 2 USB plugs to illuminate your LEGO build.
The Brick Loot light strings easily connect to the USB with mini plugs – the latest technology that makes it even easier to light up your creation!
To power your kit, simply insert the USB plug into any 1, 2, or 2.4 amp USB-powered 5V power supply or USB battery bank.
You may use a USB hub or switch to expand the number of USB ports. Please remember there is a maximum of 50 LEDs per 1 amp port.
Simple plug and play installation instructions are included in every kit.

Are you ready to add LEGO Taj Mahal Lighting Kit to your 10256 completed model? Follow this link to get your LED kit.
---
Buy The LEGO Taj Mahal 10256 Set
If you are ready to buy The LEGO Taj Mahal 10256 set you can recreate this beautiful building in your own home.

Get VIP Points if you buy 10256 on LEGO website
You can view and buy the Taj Mahal 10256 on the LEGO website.
When you buy any Creator Lego set from Lego.com you get VIP points.
This LEGO 10256 set will give you 2400 VIP points.

Lego VIP points give you discounts to shop in Lego Brand stores and on the lego.com website.
When you open a Lego VIP account, you can:
Earn VIP points for shopping in LEGO Brand Retail Stores and at LEGO.com
Receive monthly promotions and specials for VIPs
Unlock members-only discounts and experiences
Get Early Access to Exclusive sets
Enjoy members-only gifts and more
Follow the link below to buy on the Lego website and earn VIP points.
---
If you liked this then check out more illuminated Lego sets in our article Incredible LEGO LED Lights.