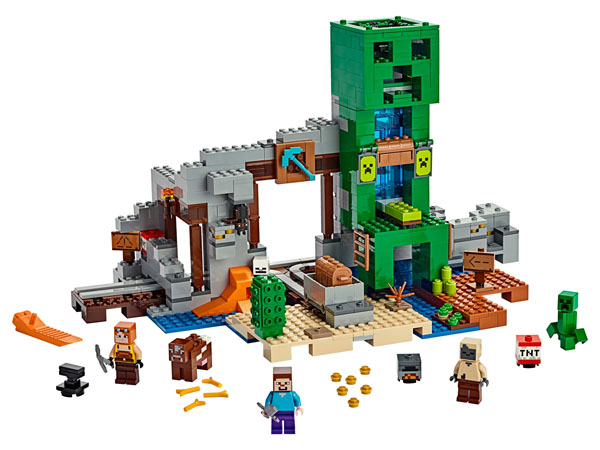 The Creeper Mine – LEGO Minecraft 21155
The Creeper Mine is one of the most impressive Minecraft LEGO sets for fans to collect. The giant Creeper statue looks down as Steve uses TNT to mine gold and fight the Husk and Creeper.

Key Features

Set Title

The Creeper Mine

Set Features

Creeper, Cow And Bat Figures. Large Creeper Statue, Mine With Rail Track, Minecart And 3 Explosion Functions.

Minifigures

Minecraft Steve with Iron Sword, Blacksmith with Pickaxe, Husk

Set Pieces

834

Recommended Age

8 Years +
I love the amount of explosions or play features in this set. All the explosions back here and stuff. There's just a lot of explosions honestly. And I love that with that with the Mine sets with all the TNT blocks. Then the characters are pretty great except for this cow… There really isn't that many cons to this set!

KILLACHICKEN Expert LEGO Reviewer
Enjoy action-packed Minecraft adventures with the LEGO Minecraft 21155 The Creeper Mine set.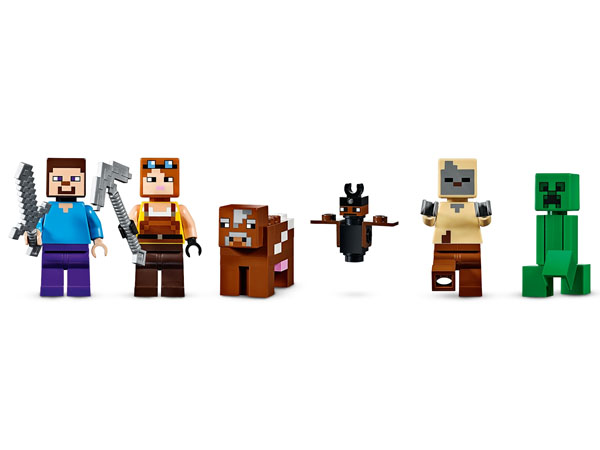 Includes 3 minifigures: Steve, blacksmith and a husk, plus Creeper, cow and bat figures.
Designed for fans of the record-breaking video game, this model is packed with exciting features and functions.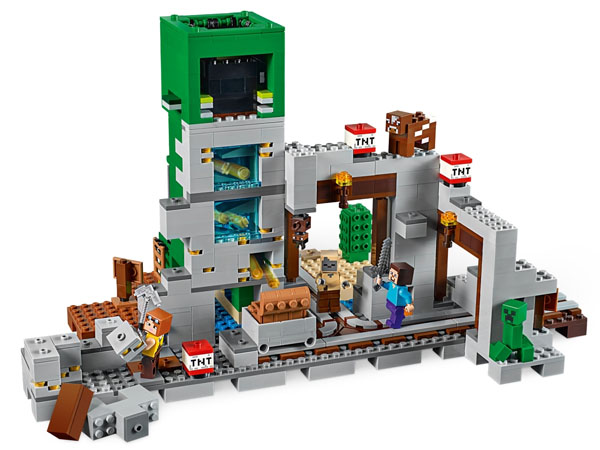 Kids can battle the Creeper and husk, blast out stone with the TNT and store mined gold in a giant Creeper statue that delivers it direct to a chest at the pull of a lever.
This collectible Minecraft toy also features a working rail track with minecart and a detailed Minecraft shelter with a bed, anvil, oven, chest and a vegetable patch.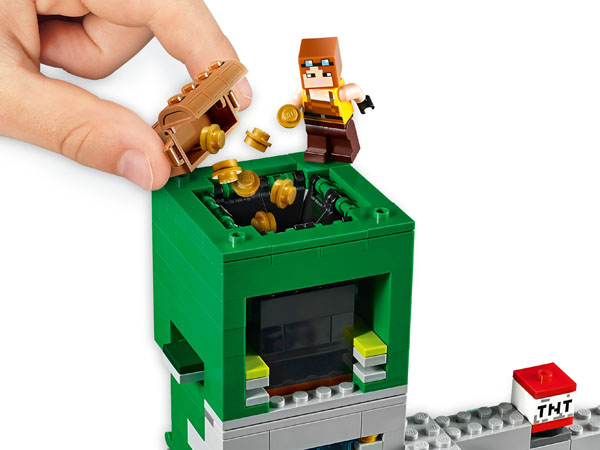 It can be combined with other playsets to create a unique LEGO Minecraft universe for both play and display.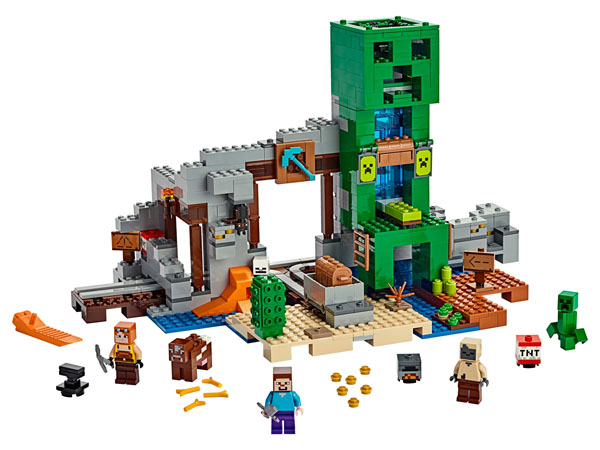 Includes 3 minifigures: Steve, a new-for-August-2019 Minecraft blacksmith and a husk, plus Creeper, cow and bat figures.
Features a mine with rail track, minecart and 3 explosion functions; shelter with a large Creeper statue, 2 Creeper banners, ladders, bed, anvil and an oven; desert and mesa setting with 2 signs, cactus and irrigated vegetable patch.
Use the Minecraft TNT to blast out the stone and clear the blocked rail track.
Battle the husk with your iron sword.
Hop aboard the minecart and head into the gold-rich Creeper Mine.
Collect your treasure in the huge Creeper statue and then pull the lever to deliver it to the chest.
Weapons include 2 pickaxes and a sword.
Accessories include 3 TNT blocks, 2 chests and 4 golden ore elements.
Set your imagination free—rebuild the set for more LEGO Minecraft creations!
This set includes over 830 pieces.
Mine measures over 8" (22cm) high, 14" (38cm) wide and 8" (22cm) deep.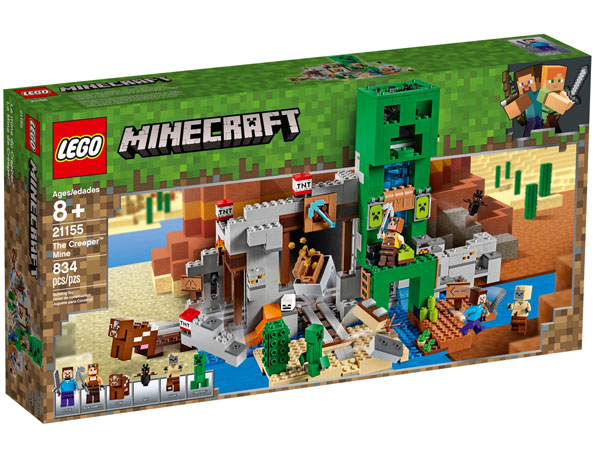 You can buy LEGO 21155 Minecraft The Creeper Mine from our recommended online store below.
---
Buy The Creeper Mine from LEGO Website and Earn VIP Points
You can view and buy this 21155 Minecraft product on the LEGO website.
When you buy any Minecraft Lego set from Lego.com you get VIP points.
This LEGO 21155 set will give you 160 VIP points.
Lego VIP points give you discounts to shop in Lego Brand stores and on the lego.com website.
When you open a Lego VIP account, you can:
Earn VIP points for shopping in LEGO Brand Retail Stores and at LEGO.com
Enjoy members-only gifts and more
Unlock members-only discounts and experiences
Get Early Access to Exclusive sets
Receive monthly promotions and specials for VIPs
Follow the link below to buy on the Lego website and earn VIP points.
---
Building Instructions for Minecraft 21155 Set
Watch this Creeper Mine Speed Build from Squirrel Stampede.
If you want to download the instruction booklet for The Creeper Mine – LEGO Minecraft 21155, follow the link below.
---
If you like the look of this Lego Minecraft set, check out our guide to the top sets for under $100.