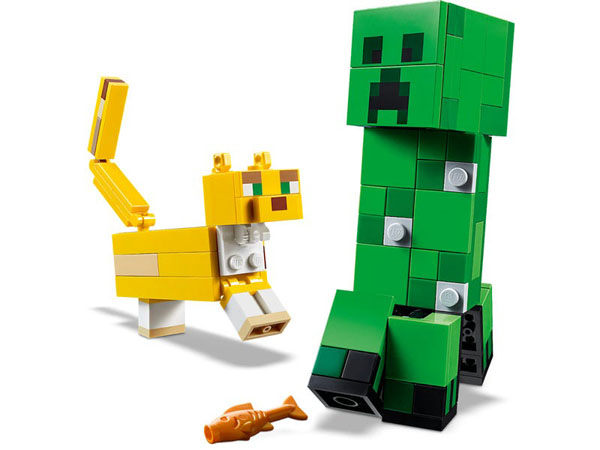 Creeper and Ocelot – Minecraft LEGO 21156
The Creeper and Ocelot LEGO play set provides Minecraft fun in real life.
Kids can enjoy real-world Minecraft™ adventures on a big scale with 2 buildable toy characters from the popular video game – a BigFig Creeper™ and an Ocelot.
This Minecraft toy provides hours of independent play and gives kids a cool Minecraft decoration for their room!

Minecraft Creeper vs. Ocelot battle Children aged 7 and up will love to recreate the familiar Minecraft confrontation between a Creeper and an Ocelot.
The brick building toys are easy to assemble and look amazing. Movable feet and a head that turns give the Creeper authentic mobility, and the yellow, spotted Ocelot is quick to react with its posable head, legs and tail.
Easy to position – great to play and display! Big fun with Minecraft BigFig gifts LEGO® Minecraft BigFig sets are supercool, super-collectible and, best of all for adults, a super Christmas or birthday gift for kids.
Designed to put open-ended creative play in youngsters' hands, they're extra-large for extra enjoyment and take Minecraft fun to new heights!

---
Building Instructions for LEGO 21156
Follow the link below to read the building instructions for Creeper and Ocelot – Minecraft LEGO 21156.
---
If you like the look of this Lego Minecraft set, check out our guide to the top sets for under $100.