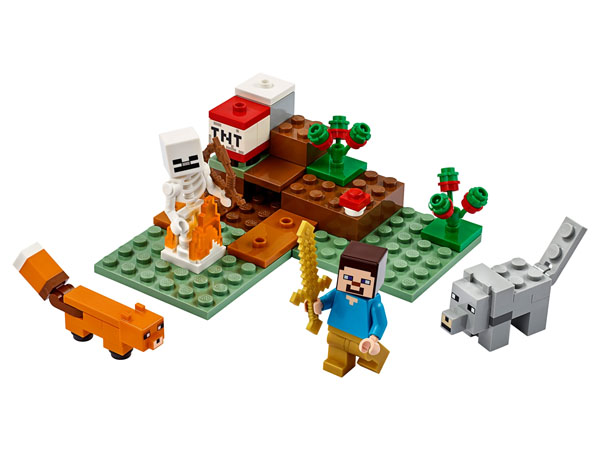 The Taiga Adventure – Minecraft LEGO 21162
The Taiga Adventure features the Minecraft Steve Minifigure as he battles an armed Skeleton attacking his campsite. Other characters included in this Minecraft LEGO set include block-built Wolf and Fox.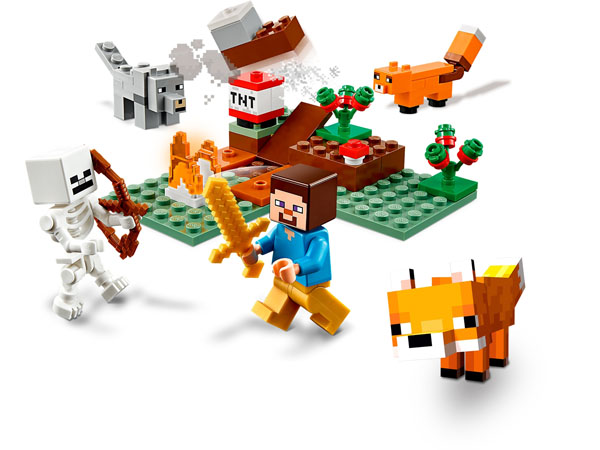 Key Features

Set Title

The Taiga Adventure

Set Features

Skeleton with bow and arrow, Wolf, Fox, Campfire and TNT

Minifigures

Minecraft Steve Minifigure with Golden Sword

Set Pieces

74

Recommended Age

7 Years +
There's some interesting pieces here that really sell it for the $10 price… I do like that you could integrate the build with other Minecraft sets which is just a pro that all of these LEGO Minecraft sets have in general… As somebody who doesn't get the more expensive ones I'm glad they included stuff like the Fox and the wolf here for such a cheap price.

Just2good – Lego Review Expert
With LEGO Minecraft features and figures for players to build, modify and enjoy, this fun-packed LEGO set encourages kids to step away from the computer and bring Minecraft action into the real world!
With Steve and his golden sword, Skeleton with a bow and Fox and Wolf figures, plus berry bushes for food, a campfire for heat and TNT to blast for ore, this toy playset is bursting with independent play possibilities!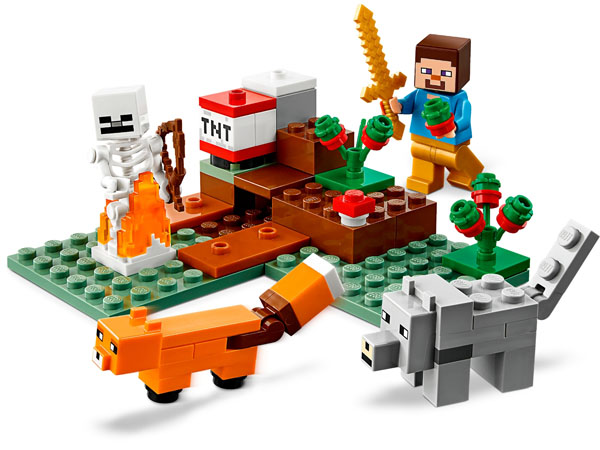 Kids build their own adventures with 4 favorite Minecraft characters! Unleash kids' creativity with Minecraft's Steve, Skeleton, Wolf, and Fox figure.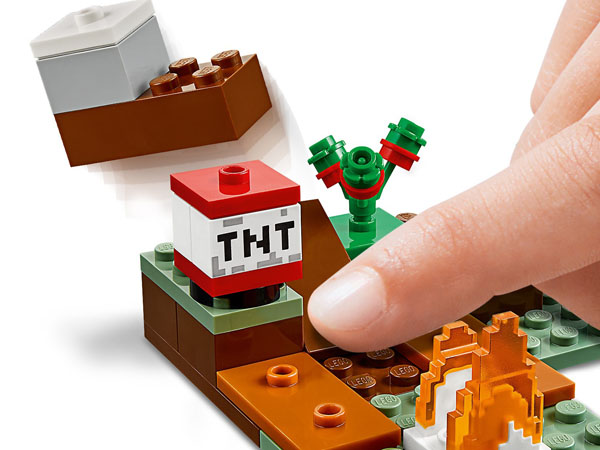 There are snow-capped mountains to climb, red berries to eat and a roaring campfire to keep warm while kids blast for precious ore in the freezing Taiga region.
But action and adventures soon interfere with the plans! Take Minecraft players to a whole new dimension of hands-on play!
LEGO Minecraft sets put open-ended independent play in kids' hands.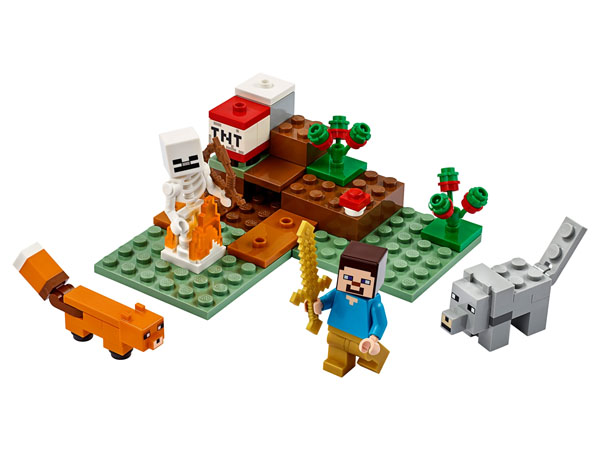 And with authentic Minecraft biomes and popular action figures, they'll never want to put the toy down! The LEGO 21162 Minecraft The Taiga Adventure includes 74 pieces. Ages 7 and up.
Kids create and play in their own Minecraft environment; rearrange, rebuild and reimagine it for new adventures, and combine it with other LEGO sets to extend the fun.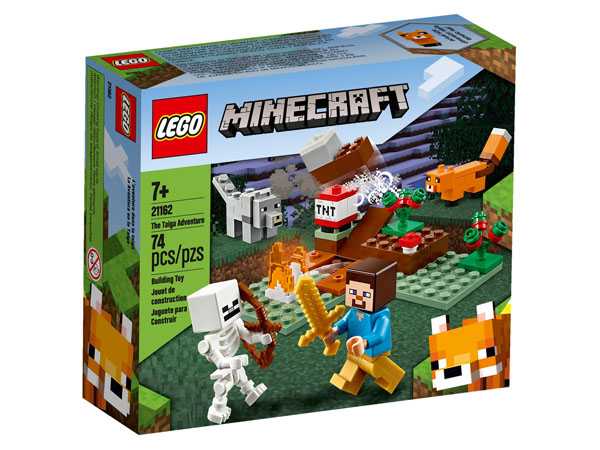 This versatile playset is an ideal toy for boys and girls seeking new ways to play Minecraft. A great Christmas, birthday or any-other-day gift for Minecraft players – and budding builders – aged 7 and up.
Follow the link below to buy this from our recommended online seller.
---
Earn VIP Points When You Buy The Taiga Adventure from the LEGO Website
You can also view and buy this product on the LEGO website.
When you buy any Minecraft Lego set from lego.com you get VIP points.
This LEGO 21162 set, The Taiga Adventure will give you 72 VIP points.
Lego VIP points give you discounts to shop in Lego Brand stores and on the lego.com website.
When you open a Lego VIP account, you can:
Earn VIP points for shopping in LEGO Brand Retail Stores and at LEGO.com
Receive monthly promotions and specials for VIPs
Unlock members-only discounts and experiences
Get Early Access to Exclusive sets
Enjoy members-only gifts and more
Follow the link below to buy on the Lego website and earn VIP points.
---
Download Instructions for LEGO 21162
If you need to download the building instructions for LEGO 21162 Minecraft set, The Taiga Adventure, follow the link below.
LEGO 21162 building instructions.
---
If you like the look of this Lego Minecraft set, check out our guide to the top sets for under $100.