The Pirate Ship Adventure – Minecraft LEGO 21152
The Pirate Ship Adventure lets you expand your LEGO Minecraft world as Alex sets sail to find treasure on a Pirate Island. Including a Pirate ship with working cannons, a row boat and lots of gold pieces to be discovered.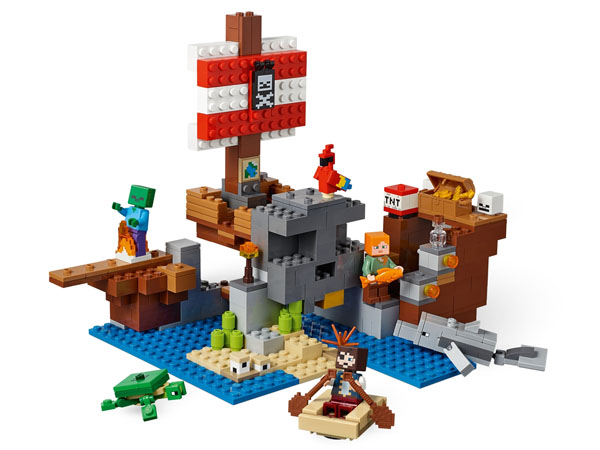 Key Features

Set Title

The Pirate Ship Adventure

Set Features

Dolphin, Parrot And Turtle Figures. Pirate Ship With Working Flick-missile Cannons, Gold Detailing, Pirate Banner, Gangplank And A Rowboat.

Minifigures

Alex, A Pirate and Minecraft Zombie

Set Pieces

386

Recommended Age

8 Years +
The pirate ship adventure this is actually a pretty cool set if you ask me… I think it's much better though when you actually combine the ship with the island just to get something that's far more interesting to look at… For folks who are into Lego this is really pushing you in a direction of of doing more different more interesting things with this theme.

JANGBRiCKS -Expert Lego Reviewer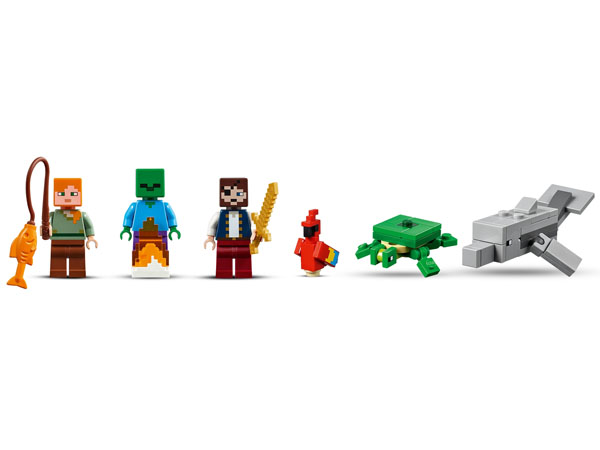 Craft a pirate ship with gold detailing, pirate banner, gangplank, cannons and a cute resident parrot.

This LEGO Minecraft Pirate Ship Adventure set comes with a host of awesome features and characters, including a minifigure with pirate skin, a dolphin and a turtle with 2 eggs.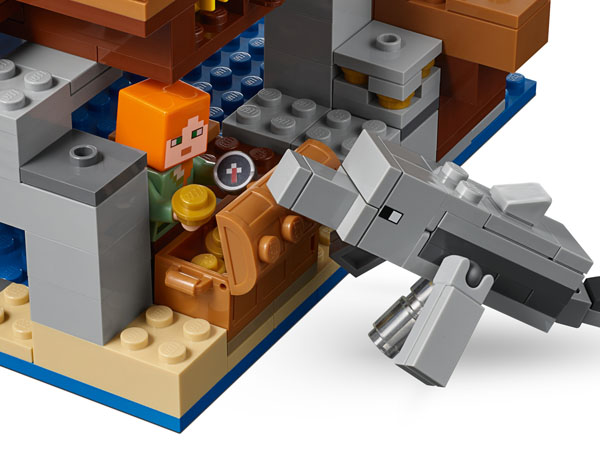 Place the zombie in the special base for a Minecraft zombie-fire effect and ward off hostile mobs with the ship's flick-missile cannons.
Enjoy hands-on Minecraft pirate adventures with this LEGO Minecraft set.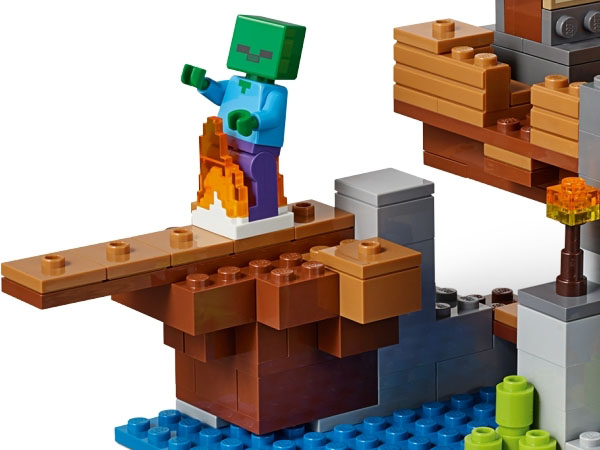 Easily swap the ship's modular building sections to create a tropical pirate base and combine it with other sets to create your own unique LEGO Minecraft universe!
Includes 3 minifigures: a pirate and Alex, plus a Minecraft zombie and, new-for-January-2019 Minecraft dolphin, parrot and turtle figures.
Weapons include a sword. Accessory elements include a map, TNT, fire element base, 2 shovels, chest, treasure, pirate banner, water bottle, torch and a compass.
Features a buildable Minecraft island setting and pirate ship toy with working flick-missile cannons, gold detailing, pirate banner, gangplank and a rowboat.
Get your sea legs aboard a Minecraft pirate ship. Fire the cannons to ward off the hostile mobs and protect the turtle's eggs from the zombie attack.
Look after the cute parrot and feed the dolphin.
Move the modular ship sections to create a Minecraft shipwreck.
Set your imagination free—rebuild the set for more LEGO Minecraft creations!
Measures over 5" (15cm) high, 9" (23cm) wide and 9" (23cm) deep.
This set includes over 386 pieces.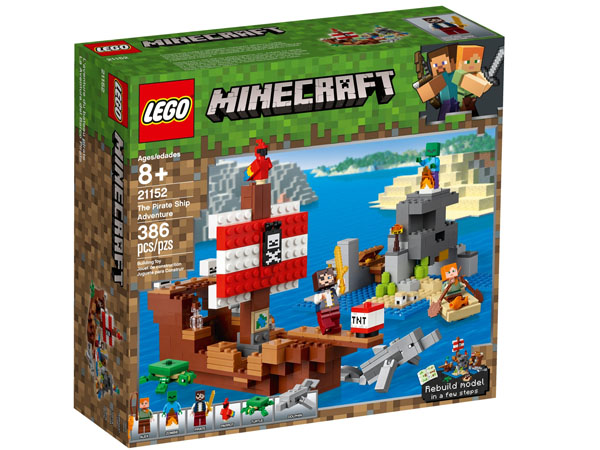 Get this for a great price!
You can buy this LEGO 21152 Minecraft The Pirate Ship Adventure set from our recommended online store by following the link below.
---
Buy The Pirate Ship Adventure from LEGO Website and Earn VIP Points
You can view and buy The Pirate Ship Adventure 21152 on the LEGO website.
When you buy any Minecraft Lego set from Lego.com you get VIP points.
This LEGO 21152 set will give you 400 VIP points.
Lego VIP points are awesome! Collect VIP points to give you discounts to shop in Lego Brand stores and on the lego.com website.
When you open a Lego VIP account, you can:
Earn VIP points for shopping in LEGO Brand Retail Stores and at LEGO.com
Receive monthly promotions and specials for VIPs
Unlock members-only discounts and experiences
Get Early Access to Exclusive sets
Enjoy members-only gifts and more
Follow the link below to buy on the Lego website and earn VIP points.
---
Building Instructions for LEGO Minecraft 21152
Check out this Speed Build video for Lego Minecraft 21152 The Pirate Ship Adventure by AustrianLegoFan.
For a full download of the Pirate Ship Adventure set build instructions, follow the link below.
---
If you like the look of this Lego Minecraft set, check out our guide to the top sets for under $100.