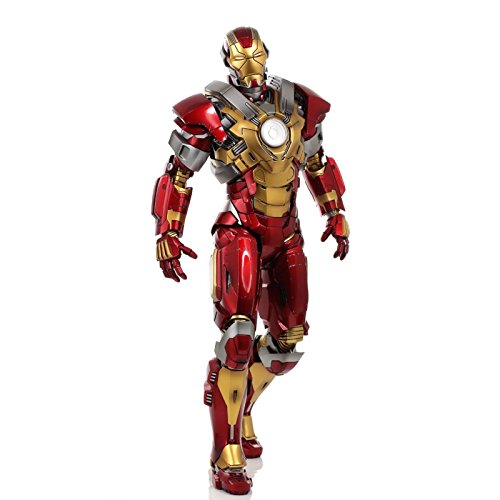 Iron Man Mark XVII by Hot Toys
Hot Toys have created another superb 1/6 scale figure based on the MCU Iron Man 3 movie. Iron Man Mark XVII also known as Heartbreaker is suit 17 built by Tony Stark.

Be sure to add the Iron Man Mark 17 Heartbreaker Figure to your collection. This limited edition collectable figure by Hot Toys is superb in attention to detail. The figure is 1:6 Scale to the iconic Heartbreaker suit featured in Iron Man 3.
Height:
Approximately 30 cm tall
Special Features:
Red and gold-colored armor and LED light-up functions
36 Points of Articulation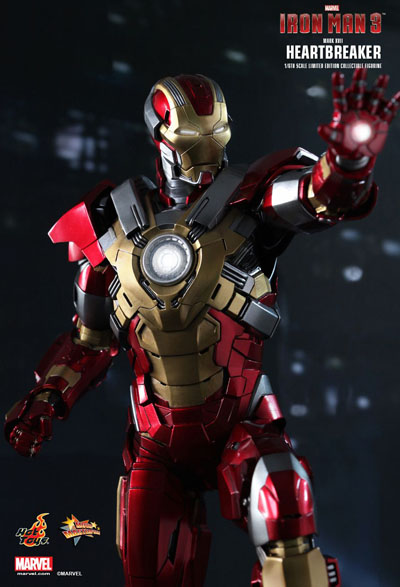 The 1/6th scale Heartbreaker (Mark XVII) Limited Edition Collectible Figurine's special features:
Authentic likeness of Heartbreaker (Mark XVII), the Artillery Level RT Suit, in the Iron Man 3 movie
Approximately 30 cm tall
Over 36 points of articulations
Special features on armor:
Red and gold-colored painting on armor
LED-lighted eyes and circle-shaped RT on chest (white light, battery operated)
Three (3) pairs of interchangeable palms including:
One (1) pair with improved articulations, movable fingers and light-up repulsors (white light, battery operated)
One (1) pair of forceful fists
One (1) pair of repulsor palms
Improved articulations on waist armor which allow flexible movement
One (1) circular figure stage with transparent pillar
Iron Man Heartbreaker Suit Mark 17
The Iron Man Suit Mark XVII is also known by the code name Heartbreaker. The suit was featured in the Iron Man 3 movie.
The suit was named Heartbreaker after the large RT in the chest. This feature allowed the armour to fire powerful blasts.
The Iron Man Mark 17 suit is described as follows by JARVIS:
ARTILLERY LEVEL REPULSOR TECHNOLOGY SUIT WITH REINFORCED CHEST RT AND ARMOR STABILIZATION DAMPERS. IT IS ALSO EQUIPPED WITH ADJUSTABLE POWER LEVEL REPULSORS.
---
Product Images from hottoys.com.hk