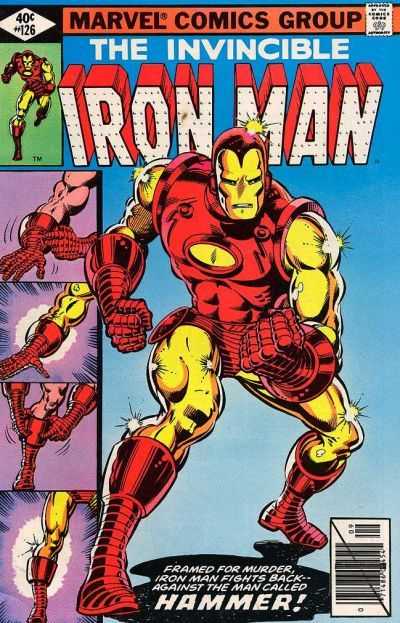 The recent MCU movies have established Iron Man as one of the most recognisable superheros today. Before the movies, our favourite Shell Head had developed a rich history within the hundreds of Marvel comic books.
Top Iron Man Stories
So what are the top Iron Man stories? Below are the major story arcs that defined Iron Man within the Marvel Universe.
---
Iron Monger Saga
Iron Man Vol. 1 #190-200
Writer: Denny O'Neil Art: Luke McDonnell, Rich Buckler, Sal Buscema, Herb Trimpe, Mark Bright
He's lost his armor and his fortune, but not his nerve! Tony Stark's back on his feet after everything Obadiah Stane has thrown at him, but now the bilious billionaire is taking away Stark's friends…one of them forever! The enmity spanning more than thirty issues ends in a steel-plated slugfest from which only one can walk away! Plus: vision quests and extradimensional intrigue! Madame Masque and Thundersword! And the debut of the Scourge of the Underworld! Guest-starring the West Coast Avengers! Collects Iron Man (1968) #193-200.
Read The Full Article: Iron Monger Saga
---
Extremis
Issues: Iron Man Vol. 4 #1-6
Writer: Warren Ellis Art: Adi Granov
It's the beginning of a new era for Iron Man as renowned scribe Warren Ellis joins forces with artist Adi Granov to redefine the armored Avenger's world for the 21st century – a landscape of terrifying new technologies that threaten to overwhelm fragile mankind! What is Extremis, who has unleashed it, and what does its emergence portend for the world? Collects Iron Man #1-6.
Read The Full Article: Iron Man Extremis
---
Demon In A Bottle
Issues: Iron Man Vol. 1 #120-128
Writer: David Michelinie, Bob Layton Art: John Romita Jr., Carmine Infantino
Iron Man faces his most untouchable foe in criminal industrialist Justin Hammer and his literal army of super-villains! But can the Armored Avenger overcome an even more implacable personal demon, invulnerable to technology or wealth? Guest-starring Ant-Man and the Sub-Mariner!
Read The Full Article: Demon In A Bottle
---
The Iron Age
Issues: The Iron Age #1-3
Writer: Kurt Busiek Art: Patrick Zircher, Bob McLeod
Through the perspective of Pepper Potts, we learn of Tony Stark's origin: through his rise as CEO of Stark Industries, to his first turn as Iron Man.
Read The Full Article: The Iron Age
---
Iron Man Director of S.H.I.E.L.D.
Issues: Iron Man: Director Of S.H.I.E.L.D. 15-32, Annual 1
Writer: Daniel Knauf, Charles Knauf, Christos Gage
Tony Stark takes on the Marvel Universe's hardest job: Director of S.H.I.E.L.D.! And he's just the futurist to bring the peacekeeping intelligence organization up to date! But with Tony in the hot seat, what will that mean for Iron Man? He'll face techno-zombies, an old hero with a grudge, a traitor in the Initiative and regime change in the nation of Madripoor! Will Tony Stark crack under the pressure of being the world's top cop?
Read The Full Article: Director of S.H.I.E.L.D.
---
World's Most Wanted
Issues: Invincible Iron Man 8-19
Writer: Matt Fraction Art: Salvador Larroca
Book 1: In the aftermath of Secret Invasion, Iron Man is no longer the hero he used to be, and Tony Stark's entire life is torn apart. We can't say much now, but… how bad does it get? Here's a hint: read World's Most Wanted! By the blockbuster Invincible Iron-Man creative team of Matt Fraction and Salvador Larroca, lauded by fans and critics alike! Collects Invincible Iron Man #8-13.
Book 2: The second half of World's Most Wanted! Don't miss out on this critically acclaimed blockbuster! Tony's failing health makes the Iron Man too complicated to pilot. Hill hunts the world's most un-huntable man. Pepper defies Norman Osborn and H.A.M.M.E.R. itself. And all of Iron Man's rogues' gallery is after him and the billion-dollar bounty on his head… starting with the murderous Madame Masque! But believe it or not, there'll soon come a time when everyone looks back on these as the good old days
Read The Full Article: World's Most Wanted
---
The Birth of War Machine
Issues: Iron Man: Iron Man Vol. 1 #280-291
Writer: Len Kaminski Art: Kevin Hopgood, Tom Morgan, Scott Benson
We've seen Tony Stark go down and get back up many times – but from the grave?! When his longtime employer and friend seemingly loses his struggle to hold onto life, Jim Rhodes dons the new War Machine armor and shows the world what's black and white and fed up all over! Can even cutting-edge Stark-tech withstand Firepower, Atom Smasher, and the Living Laser? And while Rhodes is filling Stark's boots, what's up with the empty armor zipping around? Guest-starring the West Coast Avengers! Collects Iron Man #281-291.
Read The Full Article: The Birth of War Machine
---
Read this article the best Marvel Comics of all time.
If you are an Iron Man fan make sure you check out our Iron Man gifts and merchandise page.
---
Check out the rest of our content about Iron Man.