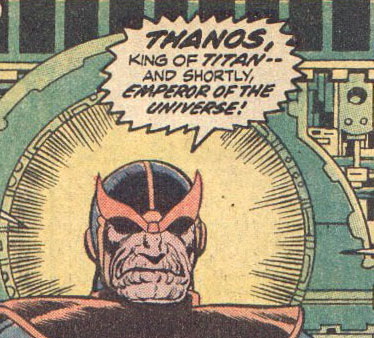 Betrayal! Every Appearance of Thanos in Marvel Comics : Part 3
We continue our run through of every Marvel comic appearance of Thanos. Captain Marvel v1 #26 "Betrayal!" was published in May 1973. The story is written by Mike Freiedrich with Jim Starlin who also produced the artwork.
---
Captain Marvel v1 #26: Betrayal!
This story continues on from Captain Marvel #25 where Rick Jones was betrayed by Lou-Ann.

The first page of issue #26 opens with the words BETRAYAL! as Captain Marvel crashes into the home of Lou-Ann demanding an explanation.
She tells Mar-Vell of Saturns moon Titan and its dictator ruler Thanos. She describes his army of "outcasts from a hundred worlds" who plot to use Earth as a stepping stone out into the galaxy.
We find out that Thanos has implanted slave discs in the minds of the leaders of Earth which means that Thanos is secretly in control of the planet.
As she tells her story, she reveals a pistol and fires at Mar-Vell. She claims that her body is acting for Thanos but her mind is still her own.
Lou-Ann and Rick Jones embrace as we cut to the shapeshifting Skrull from the previous issue.
Skragg and Super Skrull confirm to Thanos that even the words of Lou-Ann that declare herself free from control are in-fact their words. She is still a vessel of the will of Thanos.
Thing Vs Captain Marvel
Super Skrull uses his abilities to imitate any power of the Fantastic Four to become The Human Torch and fly through the city in search of Thing.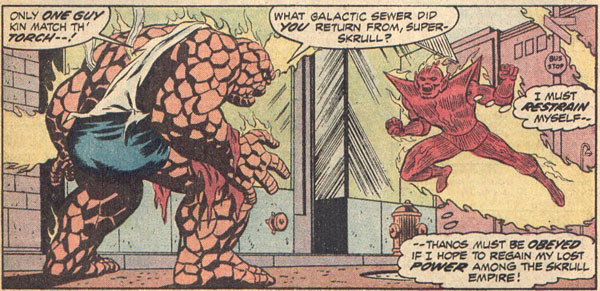 When he fires upon Thing with a fireball as powerful as that of the Torch, Thing recognises him as Super Skrull.
As he flies away, Super Skrull challenges Thing to follow him to 414 West 44th which is the address where Lou-Ann and Rick Jones are currently talking. Thing is aware that it is a trap but decides to walk straight into it.
As Thing enters the building his voice is removed by the Skrull technology.
Captain Marvel hears Thing enter the building but is not prepared to be fooled again by the Skrull shapeshifting tricks from last issue.
When he sees Thing, Mar-Vell believes it is an imposter Skrull and attacks him. Thing is unable to speak the truth so the two superheroes battle causing destruction to the buildings surrounding them.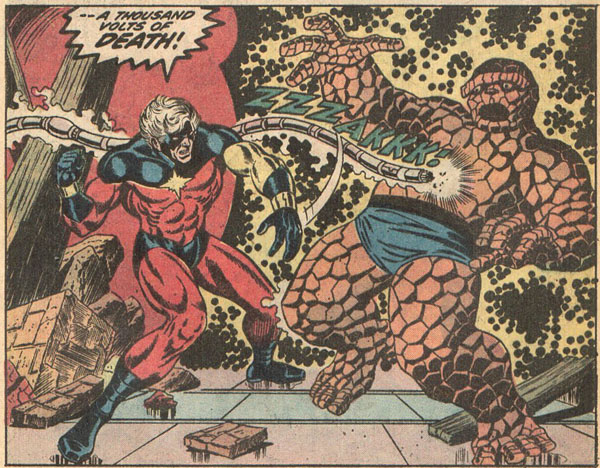 After being flung through several walls they fight their way into the base of the enemy.
Mar-Vell manages to electrocute Thing and is ready to spear him to death when he stops himself. Captain Marvel decides that he won't murder any enemy as that makes him as cold as a Skrull.
Just then Thing gets his voice back.
Enter Thanos
The Skrull panic as Thing begins talking. His vocal paralysis is released from their control.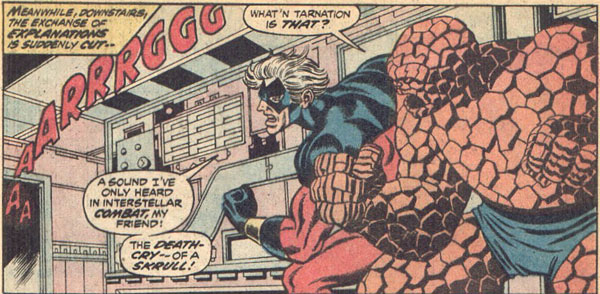 From upstairs the heroes hear a scream which Mar-Vell identifies as the Death Cry of a Skrull. As they force their way further into the building they see the Skrull turned to stone.
As the heroes question who or what could turn a person to stone like that. A voice answers "I did!"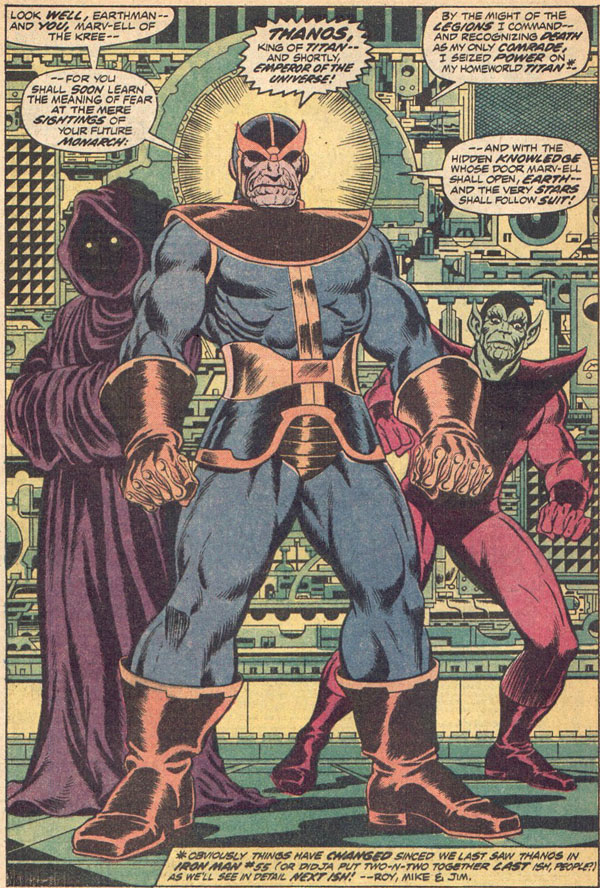 We finally see the first full shot of Thanos who has been hidden in shadows for these two issues. He announces himself as "Thanos King of Titan – And shortly Emperor of the Universe."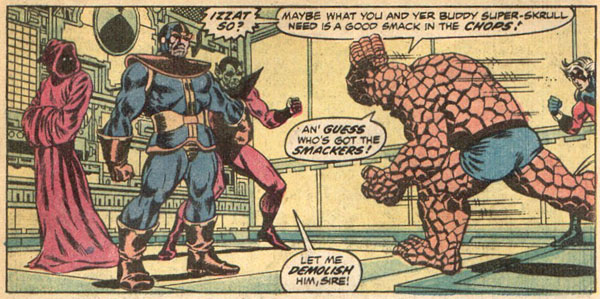 Thing launches an attack on Thanos but the power of Thanos is too strong and Thing is flung back unconscious by a blast from the Titans hand.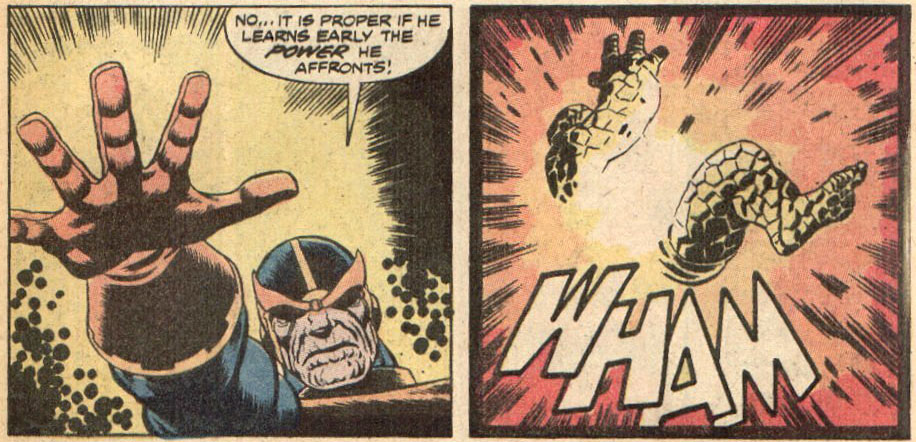 Captain Marvel declares that he will never give Thanos the information that he seeks. Thanos counters that it is not from Captain Marvel that he seeks knowledge but from Rick Jones.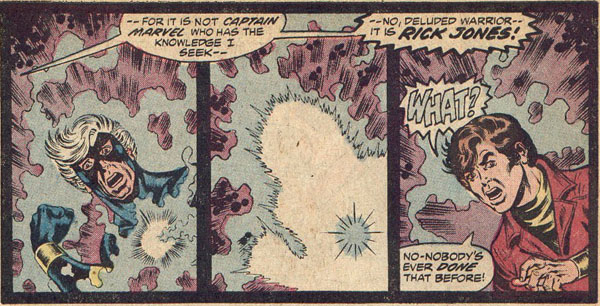 Thanos is able to use his power to transform Mar-Vell back into his human form. Rick is shocked at the power of Thanos "Nobody's ever done that before!"
Then everyone is teleported away except for Thing who is left to ponder where in the cosmos they have gone to.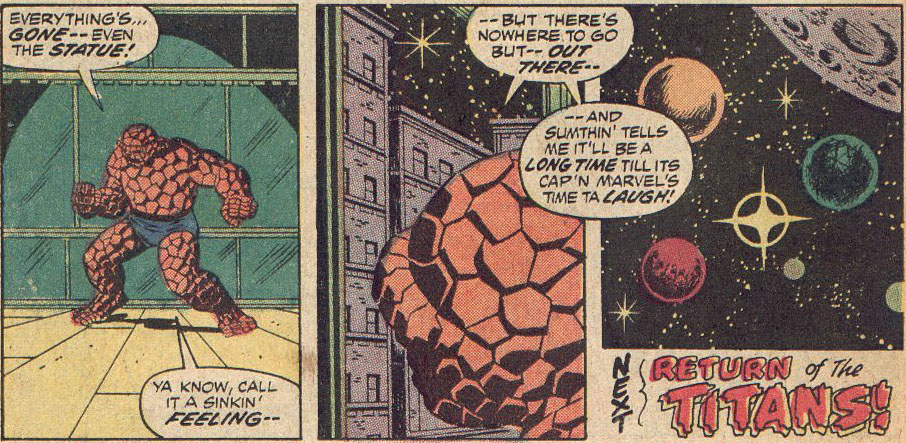 ---
This article was part of the complete
Thanos Chronological Appearances in Marvel Comics
.
There is a long way to go before we cover every Thanos story, and we welcome you to join us to uncover the history of the Mad Titan.
---
Geek Hut are working on producing the full chronological order of every Thanos appearance in Marvel Comics. If you would like to watch the full video playlist follow the link below.
Chronological Order of Every Thanos Appearance in Marvel Comics
You can also read more about Thanos on our page dedicated to the Mad Titan.
Everything you need to know about Thanos.
---
Resources for Every Appearance of Thanos in Marvel Comics : Part 3: Betrayal!