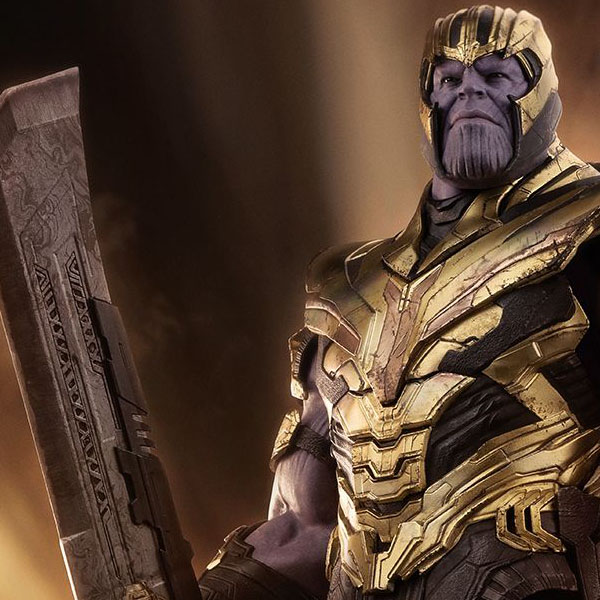 Hot Toys Thanos From Marvels Endgame
You can now order your Hot Toys Thanos 1/6 scale figure based on the MCU box office smash Avengers: Endgame.
Thanos returns to the Marvel Cinematic Universe in the Avengers: Endgame movie released in 2019. Once again, the Avengers must battle the most powerful villain in the universe to prevent half of all life from disappearing forever.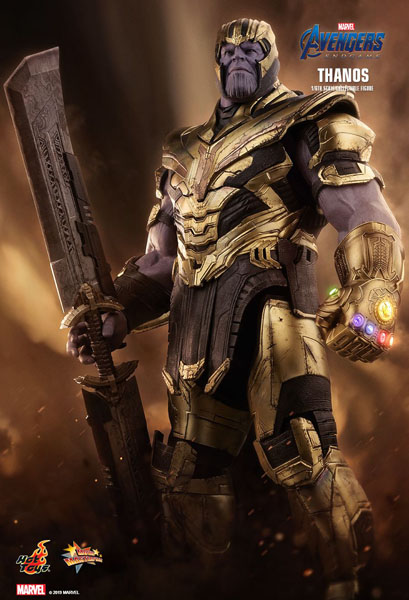 To satisfy MCU fans of Thanos, Hot Toys have released this 1/6 scale Avengers: Endgame Thanos Hot Toy.
Fans of this fierce warlord will be amazed at the attention to detail that Hot Toys has put into this incredible scale model.
---
Thanos Hot Toy 1/6 Scale Figure from Avengers Endgame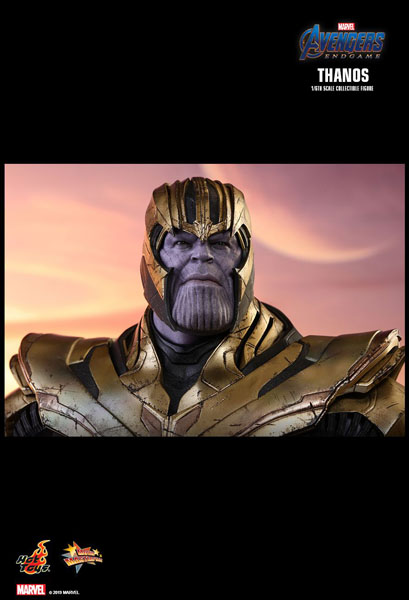 This 1/6 scale model of Thanos replicates the Mad Titan as he appeared in the Endgame movie with battle scars and weathering effects on his armour.
---
What are the features of Endgame Thanos?
Thanos comes complete with full body armour and an Infinity Gauntlet that lights up using LED. The sixth scale figure has newly painted head sculpts which can be changed to show his serious face or his angry face.
This highly collectible Hot Toy has interchangeable hands, two head sculpts and a detachable helmet. Thanos holds a double blade sword and a glove which contains all six Infinity Stones.
Endgame fans have been anticipating this collectible Hot Toys figure since the end of Infinity Wars and they have not been disappointed with the finished product.
The sixth scale Thanos figure offers 20 points of articulation, neck and arm joints and seamless elbow joints.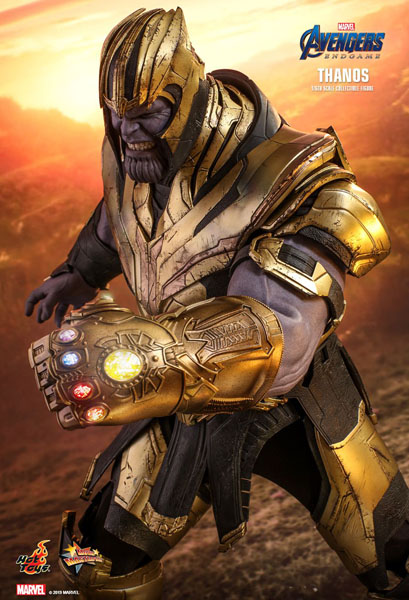 ---
Avengers Endgame Thanos comes with:
4 armoured hands including:
One pair of fists
One pair of relaxed hands
One pair of gesturing hands
One pair of hands for holding double-bladed sword
Two hand painted head sculpts:
Thanos with a serious expression
Thanos angry face
Full body armour including:
A newly tailored purplish blue and metallic gold-coloured armour with trim details and battle damages.
One pair of gold-coloured armoured boots with weathering effects
A helmet (wearable on both head sculpts)
A metallic gold-coloured Infinity Gauntlet mounted with six Infinity Stones (6 LED light-up points, battery operated).
A heavy double-bladed sword
Hot Toys Thanos is a sixth scale figure based on the MCU Endgame character:
Height: 16.38" (416.05 mm)
---
Who is Thanos?
Thanos is the Marvel super villain that is able to end half of all the life in the Universe with one click of his fingers. Using the power of the Infinity Gauntlet, Thanos defeats the Avengers in the MCU Infinity War movie and halves the population of every world.
Born on Titan, Thanos carries the gene of the Deviants which are related to the Eternals. This gives him the abilities and strengths of the Eternals but amplified due to his mutation.
When Thanos learns that the Infinity Stones are one again been collected, he seeks them out to assemble his Infinity Gauntlet which makes him the most powerful person in the universe.
Throughout Avengers:Infinity War, Thanos and his children, the Black Order overcome the combined efforts of the Avengers to stop his plan.
The final scene of Infinity War leaves viewers guessing what will happen next as half of the Avengers disappear during the Snap Thanos' Gauntlet.
---
Product Images from hottoys.com.hk
---
If you would like to own a collectible Hot Toy without the cost, you can enter the Geek Hut Hot Toy Lottery.
Geek Hut is offering a range of Hot Toys up for grabs to participants in this amazing competition. You can enter the latest Hot Toy competition for as little as £2 for one ticket.
Sign up to the Hot Toys Lottery email list to find out more about the latest competition.
[wd_hustle id="hot-toy-lottery" type="embedded"]