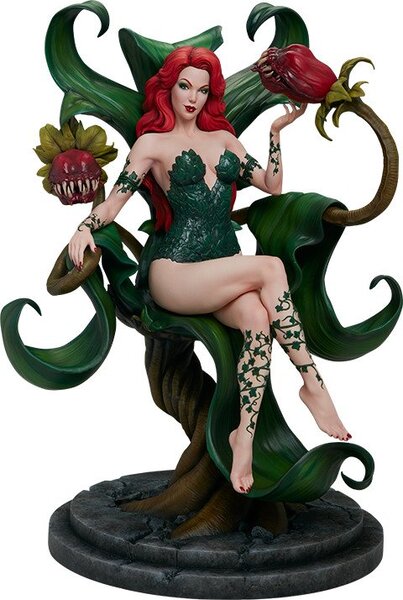 Bewitching Poison Ivy Gifts
Check out this page of bewitching Poison Ivy gifts for you to buy today.
If you love Poison Ivy from the Batman stories, we hope you will find one of the items below a great addition to our collection. We think any Ivy fan would be thrilled to receive any of these Poison Ivy gifts.
Do you know someone who loves Batman comics or the animated TV shows featuring foes such as Poison Ivy? This page is the perfect place to find a gift they will love.
Poison Ivy remains one of the major villains that confront Batman as he tries to protect Gotham City.
Since her debut in Batman #181, June 1966, Poison Ivy has become a fan favourite and one of the major characters in the DC Comics universe.
Poison Ivy Collectables
Do you have a collection of Batman statues, figures or merchandise? If you collect Batman villains or female comic book characters, then these Poison Ivy collectables are a must-have.
The amazing Poison Ivy Collectable statues, merch and figures listed below make the perfect gift for fans of DC Comic super villains.
Poison Ivy Maquette by Tweeterhead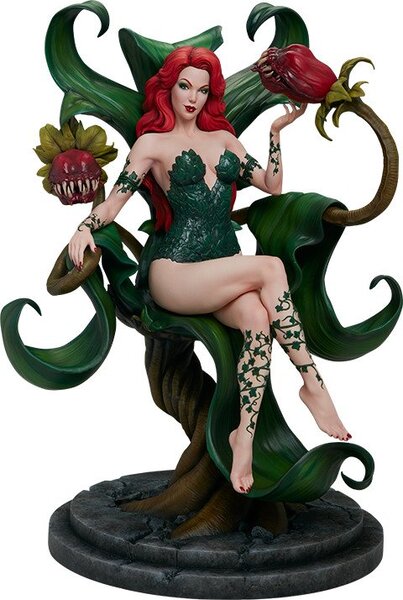 ---
Poison Ivy Museum Masterline Statue

---
Ivan Reis Poison Statue

---
Poison Ivy Couture de Force Figurine

---
Poison Ivy Wall Hanging

---
Poison Ivy Premium Format Figure

---
DC Bombshells Poison Ivy Shot Glass

---
Poison Ivy Figure with Collector Magazine

---
PopFun Ivy Shot Glass by

---
Poison Ivy Toon Tumbler Pint Glass

---
Eaglemoss Arkham Asylum Poison Ivy Figure

---
Who is Poison Ivy
Poison Ivy is an alias of botanist Pamela Isley. After stealing herbs from a museum, her partner, Marc Legrand betrayed Pamela by poisoning her with the herbs.
As a result of the poisoning, Pamela became invulnerable to all poisons.
After turning to crime, Pamela became known as Poison Ivy throughout Gotham City.
Batman and Robin were both intoxicated by the charms of Poison Ivy but eventually captured Ivy and put her in jail. Poison Ivy spent many years in Arkham Asylum for the Criminally Insane where she was often able to escape.
Ivy has also been part of several criminal gangs including Suicide Squad and the Injustice Gang.
Ivy has also had confrontations with Wonder Woman, Batwoman, Batgirl and Huntress.
---
Read more about the DC Comics Universe and characters in our DC comics explained page.
We hope the Poison Ivy gifts and merchandise featured above helped you find some awesome gifts for fans of the seductive supervillain.
If you are a fan of DC comics and want to get awesome DC merch and collectables to show off to your friends, check out our page of DC comics gifts. We have located the best statues, collectables and memorabilia of your favourite DC characters.