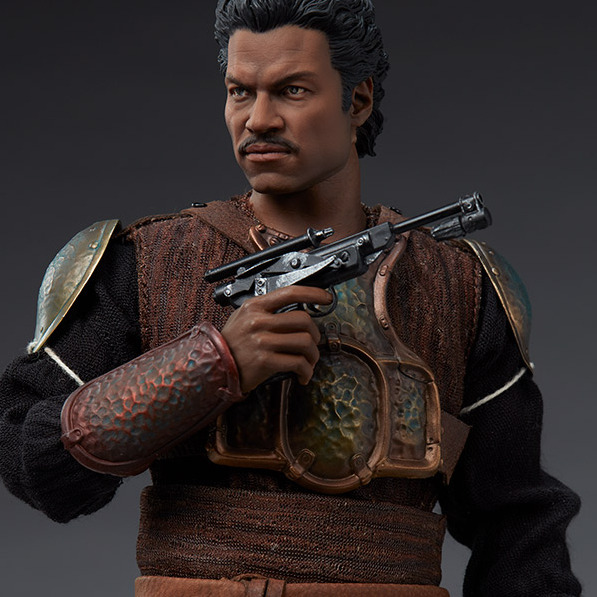 Lando Calrissian Sixth Scale Figure
If you are a fan of Lando Calrissian from the Star Wars movies, then this sixth scale figure based on the iconic character from Star Wars: Episode VI – Return of the Jedi will be a must have for your collection. This Lando Calrissian statue stands at approximately 12 inches tall making a big impression.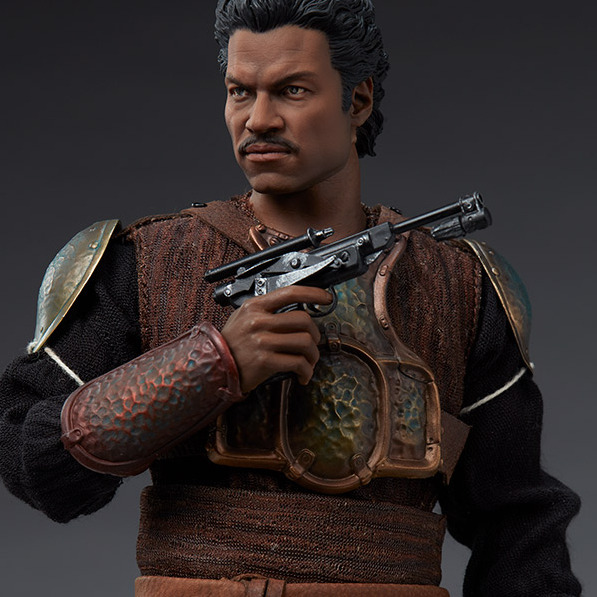 | Description | The Lando Calrissian (Skiff Guard Version) Sixth Scale Figure |
| --- | --- |
| As Seen In | Star Wars: Episode VI – Return of the Jedi |
| Manufacturer | Sideshow Collectibles / Legacy Effects |
| Character | Lando Calrissian |
| Statue | Sixth Scale Figure |
| Product Size | Height: 12″ (304.8 mm) | Weight: 1 lbs (0.45 kg) |

The Lando Calrissian Skiff Guard figure captures the likeness of actor Billy Dee Williams from Star Wars: Episode VI- Return of the Jedi.
Standing over 12″ tall, this Lando Calrissian sixth scale statue shows off this fan favourite dressed in his Skiff Guard uniform. Recreating the look of Lando Calrissian as he infiltrates Jabba the Hutt's palace on Tatooine, this incredible statue captures every detail of the disguise.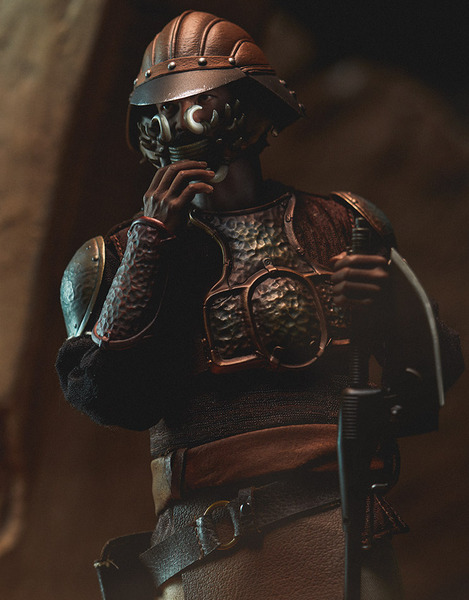 The figure includes a changable head option. You can select an unhelmeted portrait with the detailed likeness of actor Billy Dee Williams or the alternate non-removable helmet and mask to create his full guard uniform.
The Skiff Guard uniform features a tailored fabric costume detailed with a variety of materials, as well as sculpted chest and shoulder armor.
His costume comes with one pair of boots and a faux leather belt with a holster for his included DL-18 blaster pistol.
The Lando Calrissian statue includes an additional BD-1 Cutter Vibro-axe and seven hand options. The interchangable hands include one pair of fists, one pair of neutral hands, one pair of grip hands, and one right pistol grip hand.
This range of interchangable options gives the figure a wide range of display options for this figure.
---
Who is Lando Calrissian?
Landonis Balthazar Calrissian (Lando) human male smuggler, gambler, and card player Born on Socorro. Lando later Baron Administrator of Cloud City and, later, a general in the Rebel Alliance.
Lando Calrissian was the owner of the Millennium Falcon before he lost it to Han Solo in a game of sabacc on Numidian Prime.
Following the loos of the Falcon, Calrissian ended his days as a smuggler and became an entrepreneur. He set up a mining operation on the planet Lothal before he eventually became the leader of Cloud City in the skies of the planet Bespin.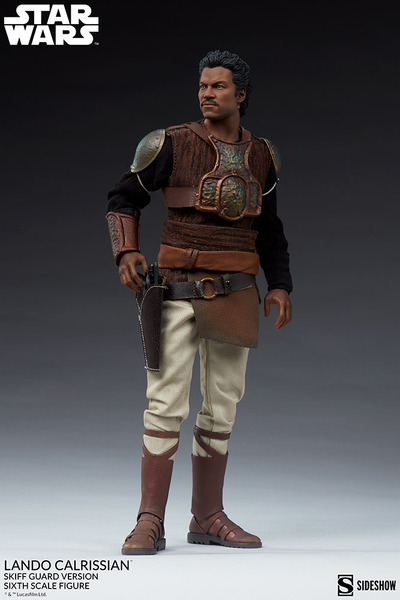 ---
If you loved this Lando Calrissian Skiff Guard sixth scale figure, be sure to check out our page dedicated to Star Wars Statues and Busts.
We also have many more gift ideas for Star Wars fans on our Star Wars Gifts page.