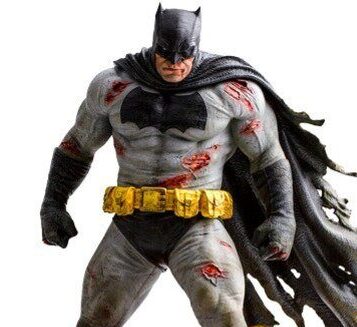 Frank Miller: Comic Writer and Artist
Frank Miller along with British writer Alan Moore is arguably one of the two most influential storytellers in American comics during the 1980s. Miller was born on January 27th, 1957 in Olney, Maryland.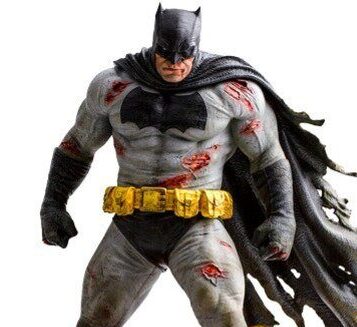 Miller began as an artist, working as both a penciler and inker. He became famous for the noir and Japanese manga influences that made his early work at Marvel Comics unique.
The noir genre would be very important to his writing, with narratives written in a contemporary style reminiscent of someone like Dashiell Hammett. This was apparent in his run on Daredevil and later, the classic Batman stories Year One and The Dark Knight Returns.
In terms of the influence of manga, Miller said, "I realized when I started Sin City that I found American and English comics be too wordy, too constipated, and Japanese comics to be too empty. So I was attempting to do a hybrid".
Although he is still best known for his comics work, Miller is also a novelist, a screenwriter and a film director and producer.
Frank Miller Career
Miller's first published work was for Western Publishing's Gold Key comics, where he was recommended for a job by legendary artist Neal Adams. The older artist had looked at samples shown to him by Miller and had seen his potential, offering him critique and informal lessons.
By the end of the 1970s, Miller was working as a fill-in and cover artist for Marvel Comics. One of these jobs was doing the art on Spectacular Spider-Man 27-28, a two-part story published in 1979. The Spider-Man story featured a character who would soon turn Miller into one of the most critically acclaimed writers/artists of the era: Daredevil.
While Daredevil's own title was a poor seller at the time, Miller has said he saw potential in the visually impaired hero and Marvel's then Editor in Chief, Jim Shooter, made him the regular penciler on the series.
Daredevil – early 1980s
Although Miller's first issue on Daredevil was issue #158, which was published in May of 1979, it wasn't until ten issues later that he would begin writing the title.
The Miller stories brought a noir style rarely seen in superhero comics and turning characters like Bullseye and the Kingpin from b-grade villains into real antagonists for the hero.
It was also at this time that Miller first worked with inker Klaus Janson, forming a partnership that has continued on and off until the present day.
Batman: The Dark Knight Returns -the late 1980s
After his work on Daredevil turned him into a fan favourite writer/artist, Miller went to DC Comics. There he worked on a 4 issue square bound prestige format miniseries featuring Batman, one of the company's most iconic heroes.
Batman: The Dark Knight Returns was written by Frank Miller and released in 1986.
Klaus Janson came along with Miller to ink the series, which tells the story of a future Batman who comes out of retirement, aged 55, to once again fight crime on the streets of Gotham City. It was coloured by Lynn Varley, who would become another long term collaborator.
Despite the futuristic setting, Miller's Batman was darker and grittier than the character, then usually portrayed the "the world's greatest detective" had been since his debut.
The book was released the same year as Alan Moore and artist Dave Gibbon's more post-modernist Watchmen. The two comic book series seemed to herald a movement towards more adult-oriented comics.
These books influenced a new era of comic books and graphic novels. Superheroes were replaced by grimier anti-heroes paving the way for darker characters such as The Punisher, Wolverine, Hellboy and Spawn.
As a result, comics began to feel more realistic and darker than ever before.
The 1990s: Sin City and 300
Starting in 1991, Miller began work on a series for Dark Horse Comics Presents, Sin City, which was later republished as a trade paperback and achieved some mainstream success. He would continue working on stories set in this dark neo-noir world for the rest of the decade.
In 1998 another major work, the 300, was released as a mini-series and collected as a graphic novel a year later. Partly inspired by the 1962 film, 300 Spartans, it tells the story of the Battle of Thermopylae from the perspective of the Spartan leader, Leonidas.
Batman: The Dark Knight Strikes Again 2000-2019
After returning to New York after spending most of the 1990s in Los Angeles, Miller was working on Batman: The Dark Knight Strikes Again when the terrorist attacks of September 11th, 2001 occurred just blocks from his Hell's Kitchen home.
His reaction to this horrific event would have what many critics have argued was a negative impact on his work.
The mini-series was set in what Miller called "Dark Knight Universe," along with his other stories; All-Star Batman and Robin and the Boy Wonder, which featured art by Jim Lee.
Frank Miller Style and Influence
Miller's early work on Daredevil was already showing the noir influences that would become even more pronounced in his later Batman stories and Sin City. His depictions of the streets and rooftops of New York City had a realism rarely seen in comics before.
His first work for DC Comics, the 6 issue mini-series Ronin showed the growing influence of Japanese comics on his style.
Batman: Year One and Daredevil: Born Again are generally considered to be the works where Miller reached the peak of his creative powers. The gritty style of both has been a major influence on many creators who came after.
Although he had success with later works like Sin City and the 300, his return to DC Comics with controversial works like All-Star Batman and Robin, the Boy Wonder in the 2000s were met with mixed reviews by critics and fans alike, many of whom argued that Miller's storytelling powers were on a steep decline.
Frank Miller Movie Career
Miller's work in Hollywood has seen a number of critical highs and lows. His first job as a screenwriter, Robocop 2, was deemed unfilmable and heavily edited. He co-wrote the subsequent sequel, Robocop 3 with director Fred Dekker. Both screenplays were later adapted into comics by Steven Grant.
In 2005, Miller co-directed an adaptation of his Sin City comic with Robert Rodriguez, a film that received some critical acclaim. A year later he was a producer on Zack Snyder's adaptation of his mini-series the 300, which was also a critical and box office success.
Unfortunately, Miller's debut as a solo director with 2008's The Spirit, based on a beloved character created by Will Eisner, was a creative and financial failure. This was followed in 2014 by another misfire he co-directed with Robert Rodriguez, Sin City: A Dame to Kill For.
Batman: Year One and The Dark Knight Returns have both been adapted as animated films, with the former released straight to video in 2011 and the latter, split into two parts released in the same way in 2012 and 2013.
---
Frank Miller Bibliography
DC Comics
Weird War Tales:
#64, 1978 "Deliver Me from D-Day" (with Wyatt Gwyon)
#68, 1978 "The Greatest Story Never Told" (with Paul Kupperberg)
#68, 1978 "The Day After Doomsday" (with Roger McKenzie)
Unknown Soldier:
#219, 1978 "The Edge of History" (with Elliot S. Maggin)
Batman: (Collected in: Batman: The Greatest Stories Ever Told Volume 1 2005, Absolute Dark Knight 2006, Batman: Year One 2005)
1979 DC Special Series #21: "Wanted: Santa Claus—Dead or Alive!" (with Dennis O'Neil)
Batman: The Dark Knight Returns #1–4 (1986)
Batman: The Dark Knight Strikes Again #1–3 (2001)
The Dark Knight III: The Master Race #1–9 (with Brian Azzarello and Andy Kubert, 2015–2017)
The Dark Knight Returns: The Last Crusade (w, with Brian Azzarello and John Romita Jr., 2016)
Dark Knight Returns: The Golden Child (w, with Rafael Grampá and Jordie Bellaire, 2019)
Batman #404–407 (w, with David Mazzucchelli, 1987)
All Star Batman & Robin, the Boy Wonder #1–10 (with Jim Lee, 2005–2008) – Issues #1–9 collected as Volume 1
Ronin:
Ronin #1–6 (1983) – collected as Ronin 2008
Superman
Superman #400 1984: "The Living Legends of Superman" (with Elliot S. Maggin, among other artists)
Superman: Year One #1-3 2019 (with John Romita Jr.)
Fanboy (collected in Fanboy 2001)
Fanboy #5 1999 (with Mark Evanier, among other artists)
Superman and Batman
Superman and Batman 2000: World's Funnest: "Last Imp Standing!" (with Evan Dorkin, among other artists, one-shot)
Orion (collected in O: The Gates of Apokolips 2001)
Orion #3 2000: "Tales of the New Gods: Nativity" (with Walt Simonson)
Marvel Comics
John Carter, Warlord of Mars (collected in Edgar Rice Burroughs' John Carter, Warlord of Mars 2011, and John Carter, Warlord of Mars Omnibus 2012)
John Carter, Warlord of Mars #18 1978: "Meanwhile, Back in Helium!" (with Chris Claremont, )
Spider-Man (collected in The Complete Frank Miller Spider-Man 2002)
The Spectacular Spider-Man #27–28 1979 (with Bill Mantlo )
The Amazing Spider-Man Annual #14–15 1980–1981 (with Dennis O'Neil)
Marvel Team-Up #100, 1980 "Introducing: Karma!" (with Chris Claremont)
Marvel Team-Up Annual #4, 1981 "Power Play!" (with Herb Trimpe)
Marvel Two-in-One (collected in Essential Marvel Two-in-One Volume 2 2007)
Marvel Two-in-One #51 1979: "Full House—Dragons High!" (with Peter B. Gillis)
Daredevil (collected in: Daredevil by Frank Miller & Klaus Janson Omnibus 2007)
#158, 1979″A Grave Mistake" (with Roger McKenzie)
#159–161, 1979–1980 "Marked for Death" (with Roger McKenzie)
#163, 1980 "Blind Alley" (with Roger McKenzie)
#164, 1980 "Exposé" (with Roger McKenzie)
#165, 1980 "Arms of the Octopus" (with Roger McKenzie)
#166, 1980 "Till Death Do Us Part!" (with Roger McKenzie)
#167, 1980 "…The Mauler!" (a, with David Michelinie)
#168, 1981 "Elektra"
#169, 1980 "Devils"
#170–172, 1981 "Gangwars"
#173–175, 1981 "The Assassination of Matt Murdock"
#176–177, 1981 "Hunters"
#178–180, 1982 "Paper Chase"
#181–182, 1982 "Last Hand"
#183–184, 1982 "Child's Play" (with Roger McKenzie)
#185–186, 1982 "Guts & Stilts" (with Klaus Janson)
#187–190, 1982–1983 "Widow's Bite" (with Klaus Janson)
#191, 1983 "Roulette"
What If? #28 1981 "What If Daredevil became an agent of SHIELD"
Daredevil (collected in: Daredevil Omnibus Companion 2008)
#219, 1985 "Badlands" (with John Buscema)
#226, 1986 "Warriors" (with Dennis O'Neil and David Mazzucchelli)
#227–233, 1986 "Born Again" (with David Mazzucchelli)
Daredevil: Love and War 1986 (with Bill Sienkiewicz)
Daredevil: The Man Without Fear #1–5 1993(with John Romita Jr.)
What If? #34 1982: "What If Daredevil Were Deaf Instead of Blind?"
Elektra (collected in: Elektra by Frank Miller & Bill Sienkiewicz 2008)
Bizarre Adventures #28, 1981
What If? #35 1982: "What If Bullseye Had Not Killed Elektra?"
Elektra: Assassin #1–8 1986–1987 ( with Bill Sienkiewicz )
Elektra Lives Again 1991
Other Marvel Comics
Marvel Spotlight vol. 2 #8 1980 "Planet Where Time Stood Still!" ( with Mike W. Barr and Dick Riley)
Marvel Preview #23 1980: "Final Warning" ( with Lynn Graeme )
Power Man and Iron Fist #76 1981: "Death Scream of the Warhawk!" ( with Chris Claremont and Mike W. Barr )
Bizarre Adventures #31 1982: "The Philistine" ( with Dennis O'Neil )
Fantastic Four Roast 1982 (with Fred Hembeck, among other artists )
Wolverine #1–4 1982 (with Chris Claremont) (collected as Wolverine 2007)
Incredible Hulk Annual #11 1981: "Unus Unchained" (with Mary Jo Duffy)
Marvel Fanfare #18 1984: "Home Fires!" ( with Roger Stern )
Sensational She-Hulk #50 1993: "He's Dead?!" ( with John Byrne, among other artists )
Dark Horse Comics
Give Me Liberty #1–4 , 1990–1991 (with Dave Gibbons)
Martha Washington Goes to War #1–5 1994 ( with Dave Gibbons, )
Happy Birthday, Martha Washington 1995 ( with Dave Gibbons )
Martha Washington Stranded in Space 1995 ( with Dave Gibbons )
Martha Washington Saves the World #1–3 1997–1998 ( with Dave Gibbons )
Martha Washington Dies: "2095" 2007( with Dave Gibbons )
Hard Boiled #1–3 1990–1992 ( with Geof Darrow )
RoboCop vs. The Terminator #1–4
Madman Comics #6–7
The Big Guy and Rusty the Boy Robot #1–2
Dark Horse Presents #100-1
Dark Horse Presents #114
300 #1–5 (collected as 300, 2000)
Dark Horse Maverick 2000: "Mercy!"
9-11: Artists Respond, Volume One
Dark Horse Maverick: Happy Endings: "The End"
Autobiografix: "Man with Pen in Head"
Usagi Yojimbo #100
Xerxes: The Fall of the House of Darius and the Rise of Alexander #1-5
Sin City (collected in: Sin City 1993, A Dame to Kill for 1994, The Big Fat Kill 1996, That Yellow Bastard 1997, Booze, Broads, & Bullets 1998, Hell and Back 2001)
Other publishers
Ms. Tree #1–4: "Frank Miller's Famous Detective Pin-Up" ( Eclipse, 1983)
Strip AIDS U.S.A.: "Robohomophobe!" ( Last Gasp, 1988)
AARGH! #1: "The Future of Law Enforcement" ( Mad Love, 1988)
Spawn #11 1993 ( Image)
Spawn/Batman 1994 ( Image)
Bad Boy ( with Simon Bisley, Oni Press 1997)
Holy Terror ( Legendary Comics 2011)
---
Read more about the DC Comics Universe and characters in our DC comics explained page.
If you are a fan of DC comics and want to get awesome DC merch and collectables to show off to your friends, check out our page of DC comics gifts. We have located the best statues, collectables and memorabilia of your favourite DC characters.