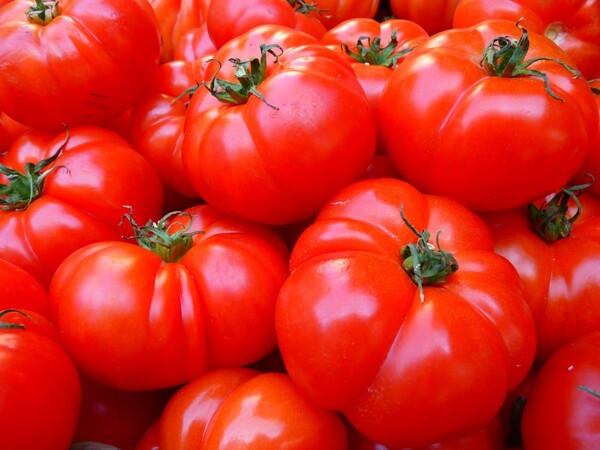 Growing Food For Beginners
If you want to find out more about growing food for beginners, we have created this guide to get you started growing your own fruit, vegetables and herbs.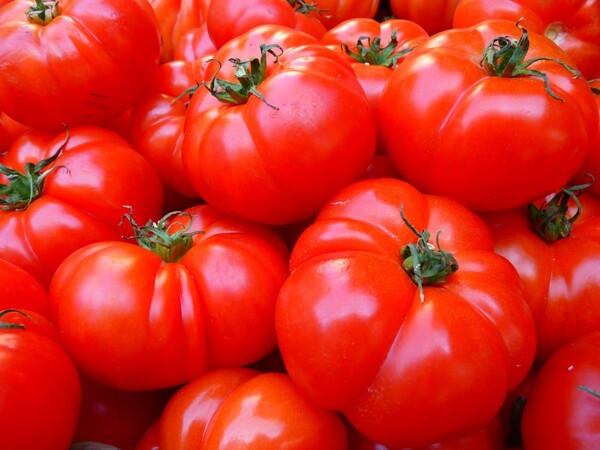 From indoor growing to transforming your back yard into a vegetable garden for profit, these steps will help you get started in this exciting hobby.
Find out more about growing your own fruit, vegetables and herbs and the reasons why growing food is a great idea for your health as well as an exciting interest.
Beginners Guide To Growing Food
Growing Food gives you complete control of each stage of the growing process.
You will be able to select the seeds you want, including the pest control and fertilization used.
Whether you have a large garden that you want to transform into providing your families food supply or if you want to grow food on your balcony or in an apartment, you can find food growing methods to suit your needs.
If you are considering Growing Food as a new hobby, you will be excited to learn as much as you can about the topic.
Growing Food is a popular and rewarding hobby for people of all ages. Find out all you need to know about Growing Food here and get started in this cool interest.
---
Find out more about growing your own food by following the links to related topics below.
Growing Vegetables in Raised Garden Beds
How To Start A Hydroponic Indoor Garden
Growing Food With Artificial Light
Best Vegetables To Grow Indoors Under Lights
---
Reasons To Grow Your Own Food
There are many advantages to growing your own food, including health, environmental, and economic concerns.
Working in your garden can improve mental and physical health, encouraging you to spend more time outdoors and working with nature.
Growing Your Own Food is a great way to spend your time and meet other people of a similar interest. You can hone your Growing Food skills over time and grow your social network.
Learning a new hobby like Growing Food is a great way to relax in your leisure time. Growing Food is a rewarding pastime which is also great for your physical and mental well-being.
Nutritional Benefits
Growing vegetables give you access to a range of nutritious foods offering vitamins, minerals and antioxidants.
The most nutritional vegetables and fruit are eaten at their freshest, which is also when they are most tasty.
Food bought from supermarkets and stores have been subject to a long process of harvesting and delivery before they get to the shop.
Throughout the food delivery process, your vegetables are stored for extended periods of time, loosing nutritional value.
Physical Health
Regular exercise is proven to relieve stress, anxiety and depression, while also boosting energy.
Working in the garden allows you to enjoy fresh air and requires physical activity.
Get Vitamin D
Spending time outdoors exposes you to regular sunshine, which allows the body to absorb vitamin D. Vitamin D is shown to protect against disease while preserving healthy bones and teeth.
Save Money
Growing our own vegetables and fruit can save you a lot of money that you would spend on your weekly shop. Investing in seeds and planting materials during the spring will offer a yield of crops when summer arrives.
Better for the Environment
Industrial systems of food production, storage and delivery relies on transportation maintained by fossil fuels. By growing our own food, you reduce the reliance on this environmentally damaging infrastructure.
Growing our own food allows you to make important choices about the use of pesticides and chemical fertilizers which are also harmful to the environment and local wildlife.
---
Steps to Growing Your Own Food
Are you ready to get started learning to grow food? Here are the first steps to getting going with Growing Food as your new hobby or interest.
Find A Place To Grow
You can begin growing food in a small section of your garden by installing raised beds.
If you have no garden, planting in containers is a viable option for balconies and small yards.
Another option for flats or apartments or homes with no garden is indoor growing using artificial lighting or hydroponic systems.
Short of available space in your home or garden? Find out about local allotments to take advantage of growing spaces in your community.
Plan Your Planting Schedule
Each type of fruit or vegetable that you grow will have a natural season. Get to know the optimal planting times and harvesting times of your crops.
By creating a planting calendar, you can harvest one crop and have new seeds and plants ready to take its place for the next season.
Add Variety Of Crops
Once you get growing food, you can begin experimenting with other varieties of fruit and vegetables.
Expanding the range of food that you grow will increase your knowledge and keep your yields exciting and tasty to eat.
Understand Your Soil
Before you plant into your soil, learn about the type of soil you are working with.
Clay soil is useable for carrots, potatoes and onions, but other crops such as strawberries may do better in a raised bed of topsoil.
Add Nutrients To The Soil
The soil that you grow plants in needs to have enough nutrients to fuel their growth. You can add a layer of compost to return nourishment to the soil or add organic fertilizer to help your crops flourish.
Sow With Care
Many varieties of vegetable or fruit will benefit from getting a good start in nursery trays, protected from the environment.
While many seeds and bulbs can go straight into the ground, you can give plants a better chance of success by germinating seeds then transplanting them as plug plants.
Start your seeds in a greenhouse or covered area where they will not get poached by animals or suffer from weather conditions.
Keep Your Plants Watered
Water is essential for photosynthesis. Without regular watering, your plants will be unable to transform the sunlight into food for optimum growth.
Keep watch on your plants to check for signs of dehydration. Different crops require different quantities of watering for success, so be mindful during dryer weather periods.
The optimum time for watering is in the early morning or late afternoon, when the sun is at its weakest.
Protect Your Plants
Many crops can become vulnerable to pest such as birds or insects, so look at finding ways to cover them up from treats.
During times of frost, you can cover your vegetables and fruit with polythene to help them retain warmth.
Chicken wire is a good barrier to protect your crops from cats. If you want to protect against insects or birds, a fine mesh can help keep them at bay.
Know When To Harvest Your Food
Some crops will be at their most enjoyable to eat if harvested soon after they become ripe. Other fruit and vegetables can be left on the plat until you are ready to pick them.
Be vigilant for when your food has begun to ripen, and find out what is the optimal time to harvest.
Healthy Fresh Fruit And Vegetables
Now that you have learned to produce your own herbs, fruit and vegetables, you will have a flourishing supply of tasty food throughout the seasons.
Share your tasty veg, fruit and herbs with friends and family. Learn to produce amazing recipes created from your own garden to show off at dinner parties.
Compared to supermarket- bought food, your fruit and vegetables will be fresher, free from chemicals and tastier as a result.
Not only have you saved money, but your food will taste much more satisfying knowing that you have grown it yourself.
---
Beginners Tools and Equipment for Growing Food
As with all hobbies and interests, you will require specific equipment to get going with Growing Food. Below are the essential tools and equipment for getting started with growing food for beginners.
---
Buying Seeds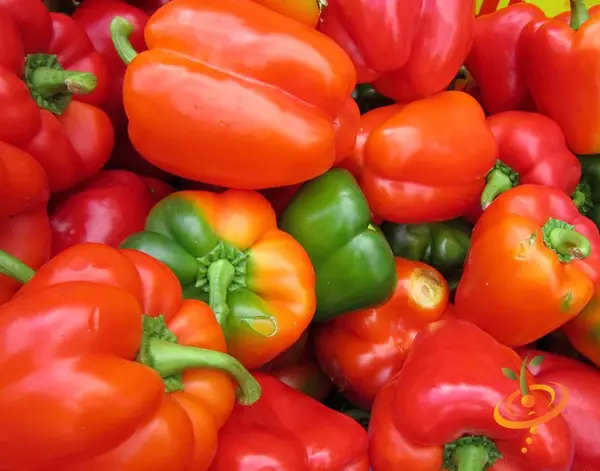 Find a wide range of seeds available to plant now. Discover what seeds are currently popular and get them delivered to your door.
---
Garden Tools Set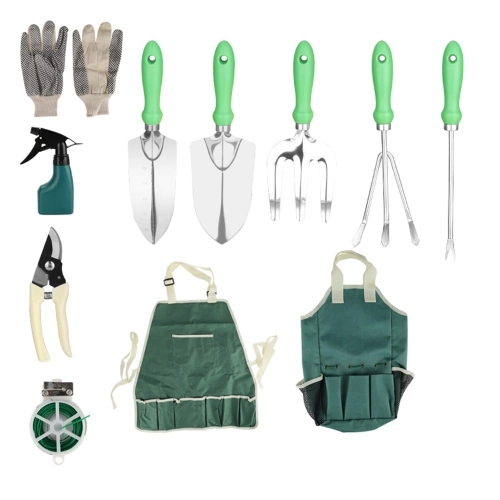 Growing food requires a range of garden tools to help you manage your vegetables. A garden tool set is a handy way to get started with growing food for beginners.
---
Raised Garden Beds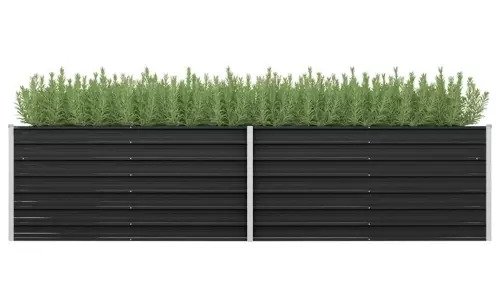 Vegetables often grow better in raised garden beds. You will have complte control over the soil and it will be lss likely to suffer from weed problems.
Soil in raised garden beds will stay warmer for longer in the season, be pH neutral, suffer less soil erosion and not be compacted by human feet.
---
Self Watering Raised Beds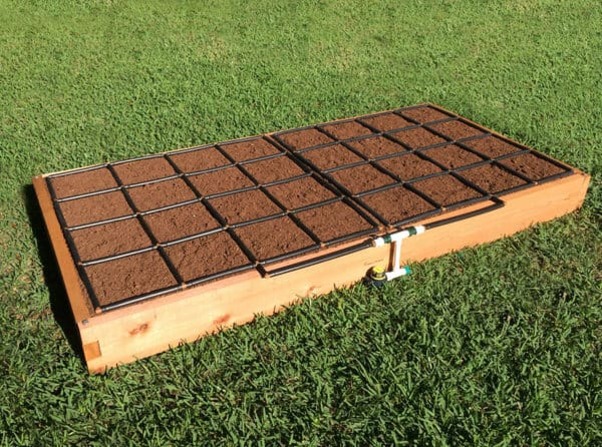 Ready to start your vegetabole garden? Want the quickest way to create a raised bed? Want to save on plant maintenance by installing a bed that self waters?
Check out this easy-to-assenble raised bed which includes a self watering system that can be built in minutes.
---
Seedling Starter Trays

Get your seedlings off to the best start by planting your seeds in starter trays. Seedling starter trays keep your seeds safe from pests and weather conditions. Once your plant has become established, transplant into your bed.
---
Mini Greenhouse Seedling Propagation Kit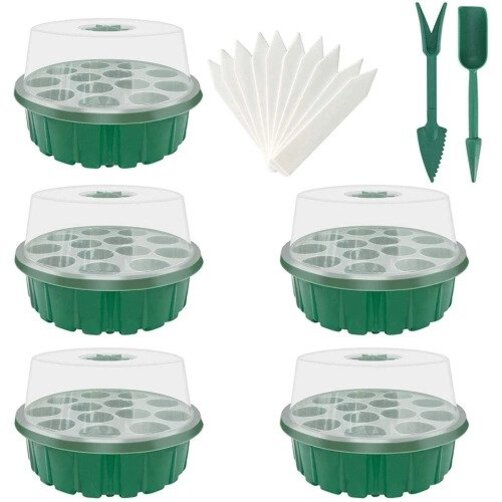 If your seeds need protection from cold weather, a mini greenhouse will absorb the heat from the sun and keep it inside. Using a Mini Greenhouse Seedling Propagation Kit will help you keep your seedlings at the required temperature for healthy growth.
---
Seedling Transplanter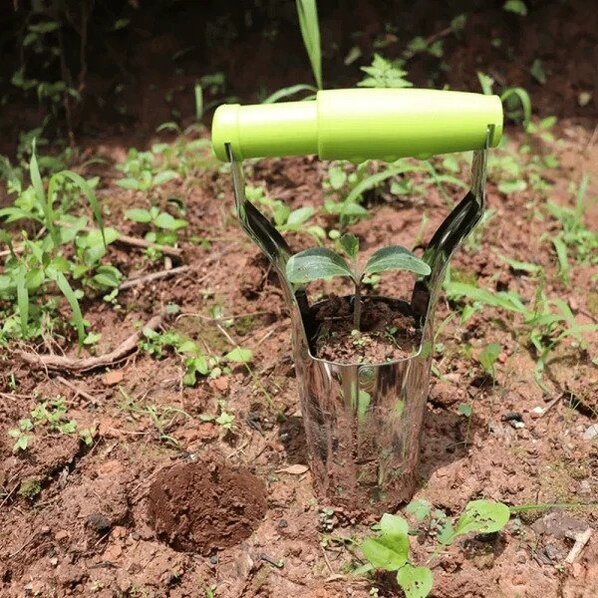 When moving a plant from a container to another location, it is important to transplant the plant while protecting the roots.
A seedling transplanter tool makes it easy to plant in hard to penetrate soils.
Use this durable tool with comfortable handle allows you to lift a seedling and move to another location while protecting roots and keping it in familiar soil to avoid root shock.
---
Garden Irrigation Systems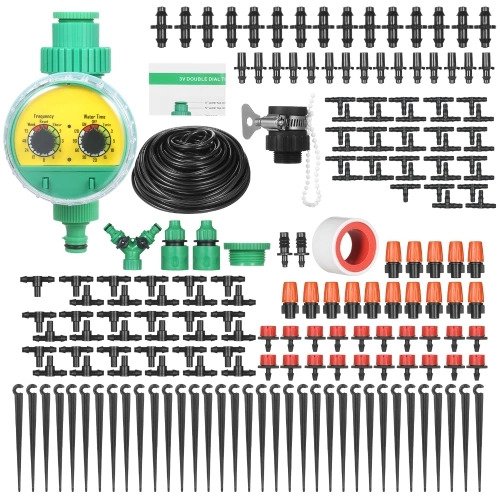 Save water, time and effort with a fully automated irrigation system in your garden.
Free up the time you spend watering your garden with an irrigation system. Irrigation sytems offer more efficient watering than using a manual hose and can be adapted for gardens of all sizes.
---
Adaptive Garden Tools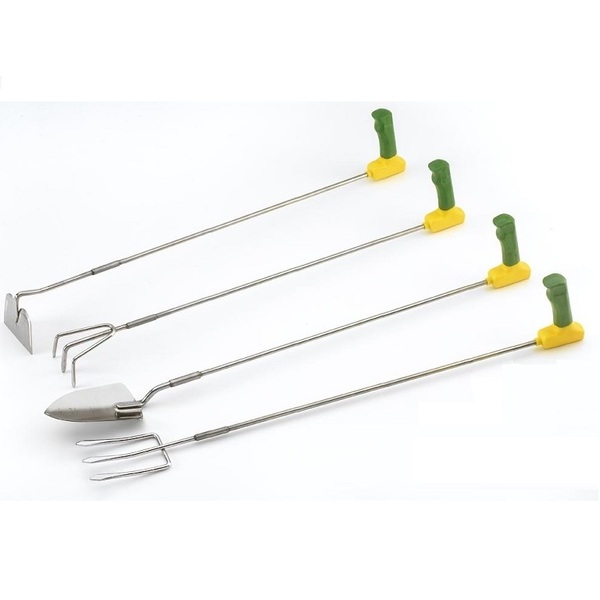 Adaptive garden tools are designed to take the stress out of gardening. These garden tools offer comfort and offer protection against knee and joint use. Ergonomic garden hand tools have extended handles to prevent kneeling or bending over.
---
PH / Moisture Soil Testing Equipment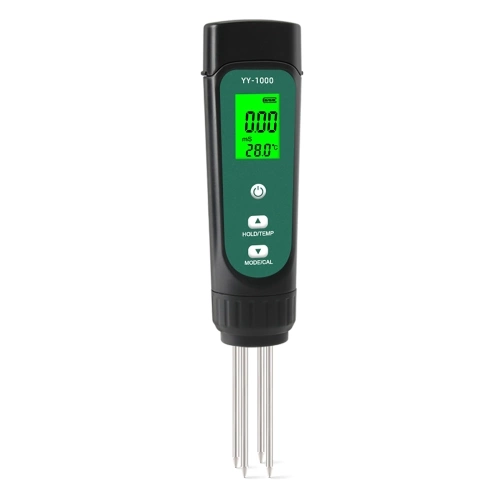 Ph is a measure of acidity of the soil. Soil testing equipment allows you to test the ph, moisture and temperature of the soil. Understanding what is lacking in your soil lets you know what need adding to keep it perfect for growing.
---
Growing Vegetables in Grow Bags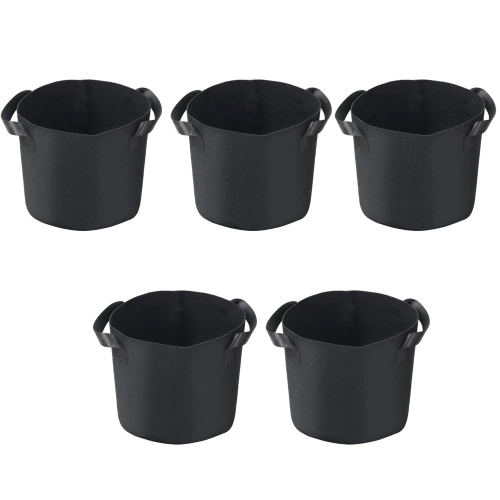 If you are short of space in your garden you may want to consider grow bags as an option.
You can grow a wide variety of vegetables in grow bags offering an easy solution to getting started with growing vegetables.
---
Plant Care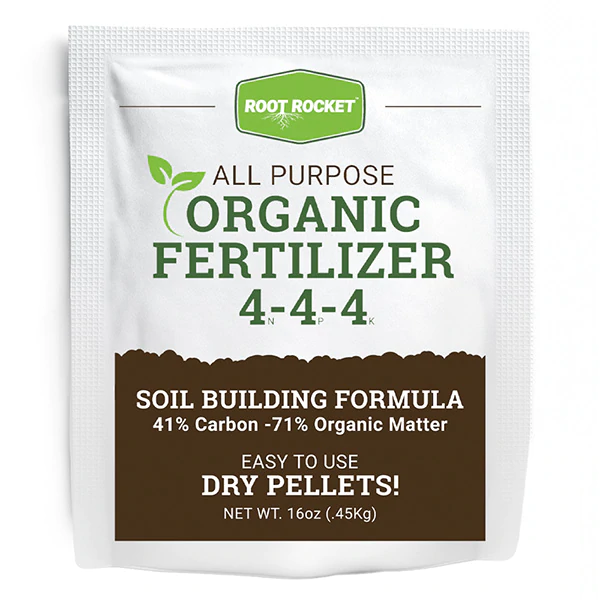 Once you begin growing food, you will need to care for our plants. Soil will need to be supplemented with fertiliser and insects will need to be controlled.
Specialist organic fertilisers will provide nutrition to your plant's roots while not damaging the environment with chemicals.
---
We hope this article about Growing Food For Beginners has helped you get started on a new hobby. Follow the link below to discover other cool hobbies and interests.