Nova
Find out more about Nova from Marvel Comics. Dicover the history of Marvels most popular characters from the comics and MCU.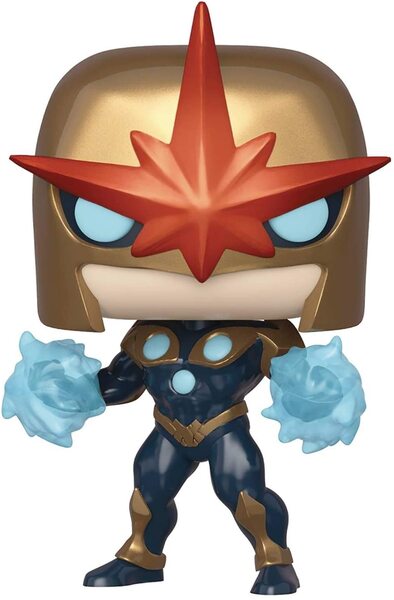 The Marvel Comics Nova
Nova Corps is an intergalactic police force that has a member called Nova who gained more superhuman abilities and characteristics like flight, injury resistance, and also enhanced strength.
Nova character was created around the late 1960s by Marv Wolfman who was the main writer on the third issue of his super adventures fanzine.
Wolfman was known to be working for the great Marvel comics and years later, he together with Sr. John Romita tweaked the character's uniform designs and ended up creating another story origin.
Richard Rider in Marvel Comics
The marvel comics' Richard Rider had his teenage life in New York, Hempstead which is his birthplace.
He was randomly chosen by Rhomann Dey as his teenager to succeed him and also inherit all his powers in the Nova prime rank after his world's destruction By the Zorr intergalactic pirates.
Rhomann Dey was the planet Xandar's last centurion to be alive by then and he was able to track Zorr to the earth after being mortally wounded during the Xandar battle which tore them apart.
But since he was injured too much, he could not be able to get back his revenge hence why he chose Richard Rider to succeed him.
Dey had remained with no choice but that of transferring all his powers to any human being alive on the planet. He gambled for the one to succeed him to be willing to follow his demands and show his worthiness in using the powers he will receive from Dey.
When he infused his powers, it immediately overloaded his body of Rider making him get hospitalized.
He got into a coma and this is when he communicated with Rhomann in a telepathic communication on the reason why he got comatose and the main mission of Dey on him.
He then suddenly recovered after the talk where he immediately blasted the eyes hence knocking out his doctor in the room.
After being discharged, he, later on, resumed his normal self and duties. However, the following day when he was left alone inside his room, Dey finally transmitted his special gift to him which was the centurion uniform.
After that, Rider realized that he owns a super-powerful strength, can fly, is invulnerable, and life-support system sealed uniform, but he never had proper instructions for using the superpowers he had.
He even never got the chance for testing all these superpowers but got an alert from his uniform commanding him to Zorr, known to be a New York Coty heart rampage.
He then quickly located Zorr and managed to engage him despite being unable to wound him fatally.
Dey managed to use Rider with his telepathic link so the rider could lock onto the set Zorr's location.
Rhomann was also able to teleport Zorr to the abroad place with the Nova-ship where he applied its computer P.R.I.M.E energies and disintegrated Zorr where he only left the life-support alien's suit.
The computer P.R.I.M.E energies are known to be strong in that they ended up destroying Rhomann's body as well.
Richard was then enamored with mantle Nova to gain the newly found abilities regardless of him not knowing how to apply them in reality.
He still took the life of a well-lived superhero where he easily fought the costumed enemies like the powerhouse, condor, corruptor, and Diamondhead, among others living in New York.
He trained slowly until he could know how to use all the superpowers assigned to him on his own.
Nova Corps
Rider fought with a supernova called Garthan Saal and used Nova Force so he could restore Xandar with its entire population via planetary banks which were controlled by Worldmind.
He was reduced and became personnel among others in Nova corps despite his superpowers increasing. Nova was now superior to Xandar and instructed him whom to answer to know that he was under the Shi'ar empire's protection.
Nova was having it hard to maintain his responsibilities in being both the new warrior and among the Nova corps personnel.
Rider then met the Nova 0:0 that helped him to develop his powers well and finally, he saved the earth not to be distracted where he prevented the greatest Deathstorm bomb detonation.
Despite him preventing the Deathsrtorm bomb from happening, he ignored the Nova corps call hence ignorance which made his duties derelict, and hence his new powers were stripped.
The powers were hence given to the new Garthan Saal that took Nova's place while coming to earth. Saal together with Rider managed to confront Volx, the dire wraith queen after being powerless for some months, and Saal was deeply wounded from the confrontation.
After that, Rider got new powers again from Xandarian just like he had received from Rhomann where his identity was reinstated again in Nova corps.
Annihilation
Annihilation wave destroyed the majority of the Xandar and Nova corps. Nova Force Worldmind was now in Richard Rider's powers which made him gain more powers for fighting against any threat.
It was not clear the period he could take while containing these powers while still sane, since others tend to go insane.
He realized that he was reluctant in utilizing it and made him have a meeting with Cammi and Drax where he helped them to get a safe place, and Drax offered to help control Rider's powers.
Quasar and Nova punched onto the annihilation wave where they wanted to get more time for evacuating the Nycos Aristedes planet. Their aim was to meet face to face with Annihilus on his command ship.
Annihilus killed Quasar during the battle and this forced Rider to flee with his efforts in a combined timely Worldmind intervention.
He later succeeded to drive all the annihilation waves which helped in retreating from this sector hence securing complete evacuation of the planet.
Annihilus later posed after being faced with universal threats. Worldmind controlled by Rider now agreed to pause searching for a safer haven and decided to work together to fight the wave directly.
Rider then formed the United Front army 205 days later from the Annihilation Day. The army consisted of Drax, Gamora, Peter Quill, and the Accuser Ronan. His outer-space army forces included the stardust, Red Shift, and Firelord.
Heralds of Galactus
Rider's forces valiantly fought to make sure they hold off the wave as they gain victory. Phylla-Vell and Skrull also joined the United front which was then made up of many species whose aim was to fight for the wave to stop.
---
If you like Marvel gifts, collectables and merchandise, then you may also want to check out our related content. Follow the links below to find more geeky Marvel collectables.
---
Find out more about Marvel Comics. Dicover the history of Marvels most popular characters from the comics and MCU.
It seems we can't find what you're looking for. Perhaps searching can help.